Adrain Hicks (a.k.a. DJ Tron), in cahoots with partners Raggo Ranger and Dark Logik, has been running Drum Unit for well over a year now. I caught up with him to find out about his long running affinity with drum 'n' bass as well as…
…getting the details of the upcoming show:
It's Drum Unit at the Phoenix Bar, High Wycombe on the 21st of September with headliners Equinox, War and Knockout.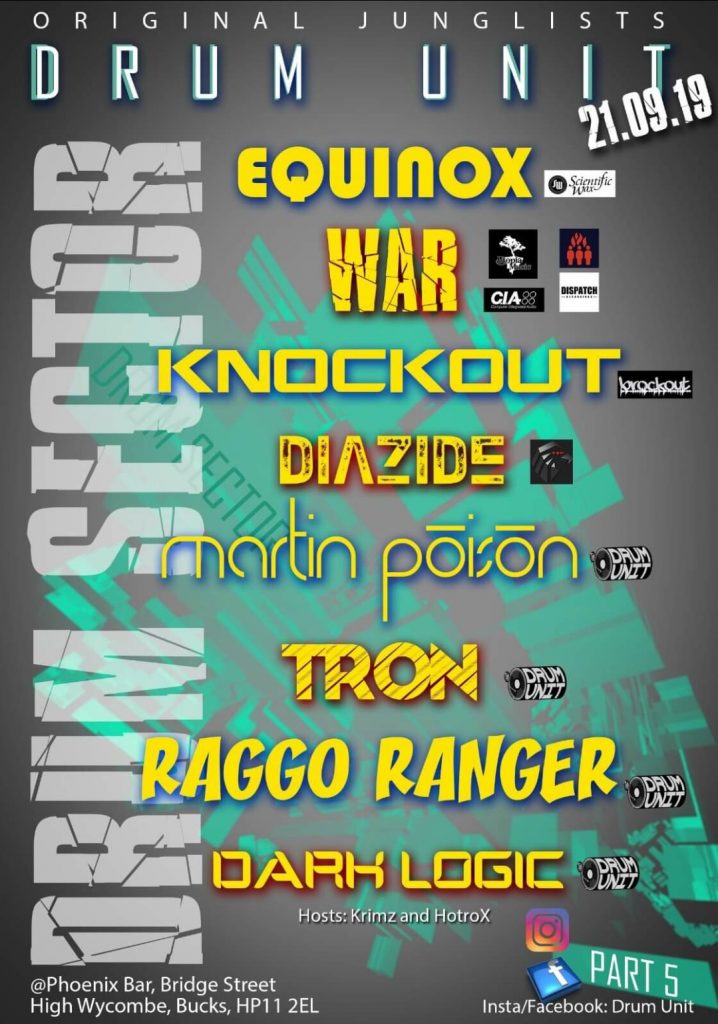 There are a few stellar guests on the flyer, could you tell us why you've chosen them?
Equinox is a legend from day dot. We love the Scientific Wax label as well as his early stuff and had never seen him until a recent, old skool vinyl set at Distant Planet. The guy was on fire with pure energy and his mixing was on point. Plus, he pulled out underground gem after underground gem that I'd never heard before. We had to have him.
We love amens and breakz alongside dark, intelligent, tech step to break it up a bit, so War fits the category perfectly. I first discovered him from an early vinyl release, Black Light, followed by a track he made in collaboration with Hydro called Censoship. Subsequently, there was a track on a Dom & Roland mix that stuck out so much that I badly needed it. I messaged Dom, asking what the tune was but got no reply. I kept listening to the track and messaged War, thinking that it could be him. His reply, 'yes it is, that was a really good guess'. I couldn't believe it. I then told him about Drum Unit and asked him would he be interested in playing.
For anyone who's interested, here's the track:
We were part of the Dominion Order's alliance with Brockout and Violation. DJ Knockout played an old skool amens and breakz set and she smashed it. We had her come down and play a set on the Order's stream where she smashed it again. So, we're having her come down and play Drum Unit where, no doubt, she will smash it one more time, since she doesn't mess about.
Having been at the alliance night myself, I'll happily confirm that Knockout is a DJ who is incapable of messing about. Moving on, it's clear from the flyer that this is the fifth instalment of Drum Unit. Since you've established the name as a going concern, I'm wondering if you've got any plans to take it further.
Two things, we are looking to expand the sound system as well as learning to build a record label. For the sound system, we want to venture to different venues to do link ups. For the label, we are taking things a step at a time; with the first release being a double 12" from me and Raggo Ranger some time next year. A load more vinyl releases to follow from artists including my brother Herbzy and our friends from rig crews. There will also be merchandise and record stalls.
Having heard your story, I'm sure you can deliver on that agenda. I'd like to retell that story, starting with where your passion for music began.
I have a very musical family and started collecting records from a very early age. I was really into Michael Jackson when the Thriller album came out. This was my first record, I never could afford them back then, but, if I really wanted something, my Mum would buy it for me.
My brother and I also looked up to my uncle, who was a break dancer in the 80's. Me and my brother used to copy his dance moves and then create our own. As well as that, I used to nick his electro and early hip hop mix tapes. Also my Mum gave me a load of influence – she loved 80's pop, disco, funk, motown, reggae. I loved it all.
As the years went by, me and my mum discovered acid house. Every month a new volume of Deep Heat would come out and I'd beg my mum for it. Not every time, as she didn't have a lot of money back then. Once or twice she would surprise me when I got home from school with the latest volume of Deep Heat.
That's top class parenting right there. How did you get from house music to more breakbeat oriented stuff?
In the early 90s, I used to watch Dance Energy after school. They used to play some of the latest acid house and I remember seeing Goldie on there way before Metalheadz as well as a few older people who knew my uncle.
As the years went by acid house began to get a little faster and more break beat orientated until it eventually formed the hardcore and jungle techno styles. I loved the piano sunshine stuff while rolling around on my skateboard, listening to my walkman. I discovered the darker, more cutting edge stuff on early rave mix tapes; Ratty and a few other things.
This new stuff was like funk, hip hop, acid house and techno all in one, but faster. I was drawn to it straight away; the sped up breaks made it sound tuff with more energy. With my pocket money, I started buying one or two records a week from Buzz records and Record Basement in High Wycombe. Until I got my first job, that's all I would spend my money on, records.
Wax Doctor worked in one of these shops. I was fascinated by the breaks and felt so lucky since I would hear his early dubs. I built a good relationship with him and he would save me bits and bobs under the counter.
It sounds like a short step from there to becoming a DJ.
I always wanted to be a DJ as a kid. Around '91, I got some cheap decks from a good friend of mine, Tim Lovelace, who was a hardcore DJ. Two decks with a built in mixer and no pitches, all in a fly case. This changed everything, no-one I knew had decks back then, all my mates would come round and we would party. I sussed out how to cue and beat match without pitches by pushing the plate around with my finger. A year later I swapped them for some belt drive decks and began to mix properly. This changed everything again to a much higher level.
Self taught, and on some tough setups, impressive. Now, where next after parties at home?
I bought direct drive decks and started playing at loads of house parties around the area and then started playing at pubs. I was still under age when I played at my first night club up at the Attic and it became a regular thing. Memories of the night include being told to rewind the track by a load of Rasta's and the strong smell of cannabis. At that time I was playing early jungle, ragga jungle. The DJing was going really well but I never got paid for any of it, I just wanted to play. I played the after parties at Curly's cafe, Granaski's and Boulevard and then my first free party, Exodus.
Right, so all of that gives a good idea of your background. Now I'd like to understand how you met the other members of your crew, starting with Raggo Ranger.
I've done a number of radio shows along the way. One of the best stations was UK's Finest, 87.5 which I first appeared on around 2005. I had a guest set on UTB's Saturday show. He would play an hour of mainstream, jump up drum n bass, while I would play more underground, darker hard step, and tech styles, which was not everyone's cup of tea.
In 2006, I started a new job as a delivery driver and my assistant, Baxter, loved the same kind of music as me. He told me about a mate of his who also played this style on UK's Finest on a Friday night. I needed to meet this guy as I felt lonely playing underground music while everyone was turning towards a mainstream which I wasn't feeling. One Friday I went to UK's Finest for a guest set on the Cyanide show and this is where I met the mighty Raggo Ranger.
He was one of the nicest guys you could ever meet. But when we played b2b, it was like a battle… who could draw the toughest tunes? It was relentless. We went through the whole spectrum of drum n bass from smoothest right to the hardest. Everything but jump up. He kept me on my toes. Baxter was gobsmacked, he had never heard me play before and, likewise, I'd never heard Ranger previously. What made it even better is that neither of us had any of the same tracks. I found two really good friends, one of which was a sick DJ with huge record collection.
Friday nights were now a must, 12 'til 2 was our show. We had Baxter entertaining the mic. I was made to feel very welcome and became a part of the Cyanide crew. In 2009 there were loads of new styles that I loved. It got hard, military hard; industrial, hard step, Technoid styles and pots and pans. Our show was unique in that no one else was playing this stuff. A different crowd of people were loving it.
And Dark Logik, when did he come on board?
At the end of our UK's Finest show there was a guy who sometimes played after us 'til early hours in the morning. I got speaking to him and he said our shows were sick and that he would love to spin with us. One night we finished the show late and tuned into his set on the way home. Fuck, he was hard as nails and a bad boy on the decks, so, the next week, we had him come and play.
He also had a huge collection of darkness and underground gems, hard as fuck. Plus he was a very serious guy who didn't take no shit, full of ideas and a shit load of connections. We began to form a strong team and began to play on a couple of other stations such as Logic FM and Flight FM.
You mentioned there that Ollie (Dark Logik) had a lot of ideas and connections. How did these qualities play out in practice?

Dark Logik was well known in the Bristol and Wales free party scenes. He met a crew with a massive rig that went by the name Requiem sound system. We got invited to play for them a few times and ultimately we became residents. We played raves in warehouses, fields and woods as well as barn parties in the valleys of Wales.
In 2014, we were invited to represent Requiem at a festival called French Tek an event where loads of sound systems from all over the UK come together; almost like a battle to see who has the biggest, loudest, highest quality sound system. We convoyed over to France with the Requiem crew, arriving amongst loads of lorries carrying sound systems and staging into a massive old derelict air-field. On one side of the venue were the English crews and on the other mostly French.
We set up the marquee and speakers, pitched our 8 man tent and partied all night, checking out some of these mad rigs. The next day me and Ranger pulled in hordes of people with a b2b set on a rig named Digger. It was such a wicked buzz with the crowd under our fingertips. We carried on networking with other crews and playing on other rigs, a further highlight being a set on Aztek, a monster French sound system whose bank of speakers was topped with sculptured heads.
The following year Aztek invited Requiem to a party in a cave the weekend before the next French Tek. I couldn't make both events so Rags and Logik played a techno set for the Aztek crew. The weekend after that me and Logik played on the biggest link up I've ever played on. Logik muscled his way into getting us a prime time slot. He played 11 till 12 and I played 12 till 1. It was almost the size of a football pitch, walls of top end speakers with flame throwers blasting 10 foot flames in the air. It was unreal experience and I was honoured to play on a set up of this size.
The contacts that we made at the FrenchTeks led to a lot of gigs back in England. Crews we've played with include Unknown, Subliminal, Digital Waste, D.N.A. Interrobang, Hydrophonik, Irritant, Rigormortis, Malfunktion, Food for thought, Tunnel crew, Phase, Rotten Noise, Rebel Culture. It was all good playing on all these different rigs, networking, meeting people but still not getting paid.
You've discussed a lot of free parties there. Were you also doing anything in licensed venues?
Yes, as we drifted away from radio, Logik wanted to run his own promotion and he began to put his nights together. Command & Conquer was aimed at the heavy, industrial side of rave music with a music policy that included hardcore, gabba, death chant, speed core and a sprinkle of the hardest dnb. No-one else was putting nights like this on at the time. He formed a following almost straight away, from shows at The Unit, Derbyshire. Logik came into some money at the time and arranged his biggest event at the Black Swan, Bristol, teaming up with Irritant, Unknown and Rigormortis. The three rooms of madness was one of the hardest and biggest lineups that the Black Swan has ever seen.
It's noticeable that the name Drum Unit hasn't featured thus far. Where does that fit in?
Sometime in 2016, Logik acquired some new gear which, combined with some of Requiem's rig, sounded bad arse, with amazing stereo width and clarity. We needed somewhere to store all this stuff and, thankfully, Logik knew a guy who had a unit up for rent, nice and cheap. Out in the middle of nowhere with fields all around, it was huge with an upstairs. This was the spot, so we moved in, with a plan: partition the downstairs into three rooms and build a room inside of a room. This would be our studio and internet radio station. Another room would be for making speakers. The upstairs was going to be a chill out area with sofas, Xbox, arcade, bar and pool table.
Ranger is a carpenter and Logik a builder, so between them, they had the tools and skills for the job. From installing new fire doors and locks to fixing a massive hole in the ceiling, we kept the work in house and did almost all of the building ourselves. During pauses in the work the 1210's would come out and we would party. Close friends from different crews got the invite to a venue where they could mix as loud as they wanted. This was now home to us, but we needed a moniker and Drum Unit was the name. The sound system was revamped for my birthday leaving our friends gobsmacked at both the quality and volume of the sound; the building was trembling and it was not even turned up halfway!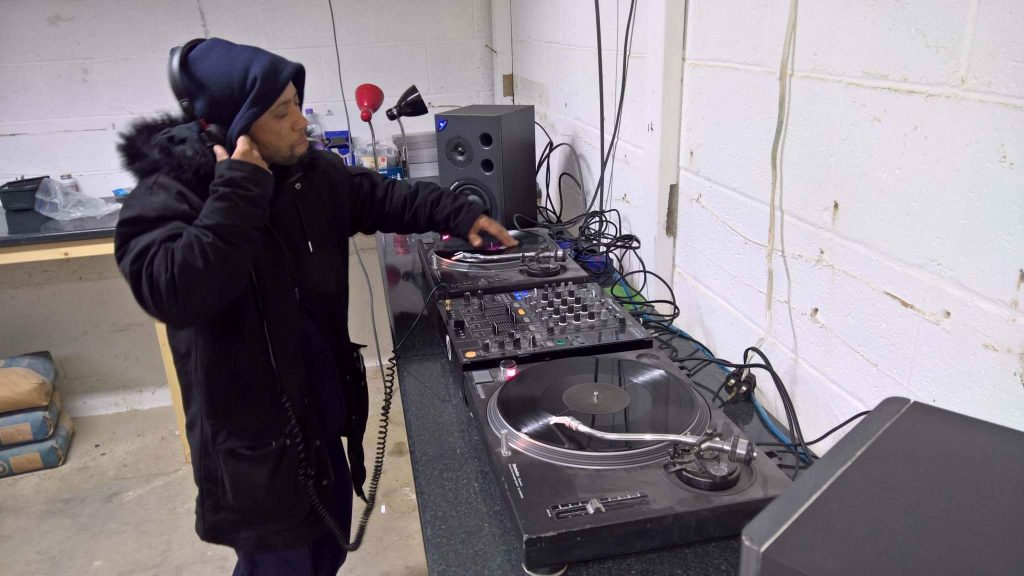 We needed to find a way to fund the rent each month as it was coming out of our pockets. Unfortunately, a year went by and we lost our dream place due to these financial reasons. The rig went into storage and we felt gutted about all of this. But, at the same time, we felt like we had something; we were a tight crew with the name Drum Unit.
I can sense a Phoenix ready to rise from the ashes.
Well, we didn't want to get involved with pirate radio and free parties any more. Nothing happened gig wise, so I spent more time in the studio on music production. During this period Ranger recommended the Dominion Order's stream to me. When I tuned in it was Dopamine rinsing out a '98 drum funk set on vinyl. Then it was Dark Angel, Diazide, and Diablo drawing me in. I was, like, 'fuck, this is my kind of shit'. So I messaged the show asking how could I get a set and got talking to Dark Angel.
I didn't tell Ranger about my appearance, texting him to say 'watch the show, now!' Rags couldn't believe that, after just telling me about the show, I was on there playing old skool. Afterwards, I told Angel about my crew and we joined The Order. Look out for the M.S.I. Drum Unit takeover, every Saturday 9 'til 12 on the Dominion Order Stream.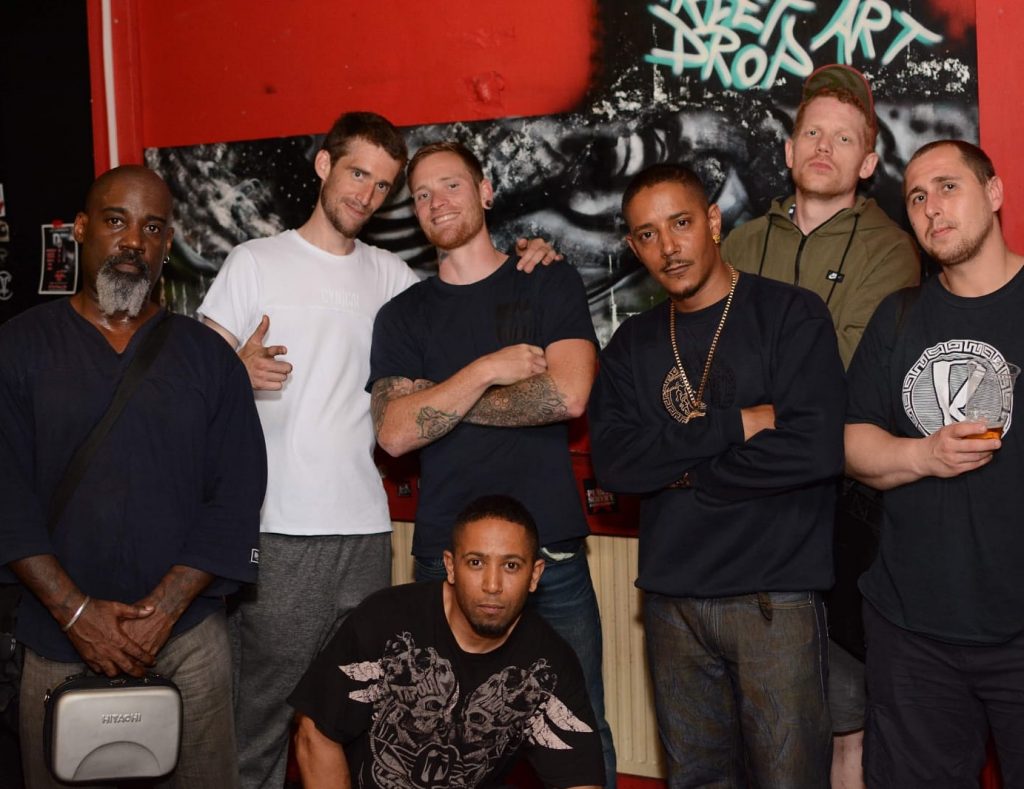 OK, but you're doing more than a streaming show, right?
We felt there was something missing still, Drum unit. We wanted to do something with the sound system; run our own night. Along with that, we wanted to keep the same principles that we intended for the industrial unit. Get in headliners, invite friends from the rig crews we know and aim for a more underground style. We are now into part 5 of our journey and our following is growing.
Well, that's quite a track record and several names have made an appearance. Is there anyone else you'd like to mention before we finish?
Just wanted to shout out to: Dominion Order, Brockout, Violation, Distant Planet, Double O, Bizzy B, Rotten Noise, Noise4cause, Rebel Culture, Fright Night, Martin Poison, WS Records, Herbzy, Splash, Purple Light Photography, Baxter, UTB, Krimz, my Mrs Sara, Sarah, Samila, Levi, Claire Beh, Imogen and all the Drum Unit family who have supported us from day one. And of course, all the Rig Crews we've worked with over the years. Much love and respect.
Keep up with Drum Unit via their Facebook Group.