Being originally from rural Northern Ireland myself, I greatly admire those individuals who promote underground sounds in unlikely locations. Imagine my delight when I discovered a crew holding regular raves in a Derbyshire village with a population of less than 7,000. I duly got in contact with one of the organisers, Sid Braithwait of Junglesoundz Promotions, to find out more.
So, Sid, tell us about the next Junglesoundz event?
Brockout! 1st June @ The Unit. Pye Bridge industrial estate, Somercotes, Derbyshire DE55 4NX
Usually, a couple of times a year Junglesoundz team up with HardSkool (Shout to DJ Knockout) to host a night called Brockout. This time we have legends Ratty, Lavery and Pilgrim headlining the night, alongside some of the best local and not so local selectors the underground scene has to offer!
Expect loads of funkin drums, bad ass bass and break-beat wickedness!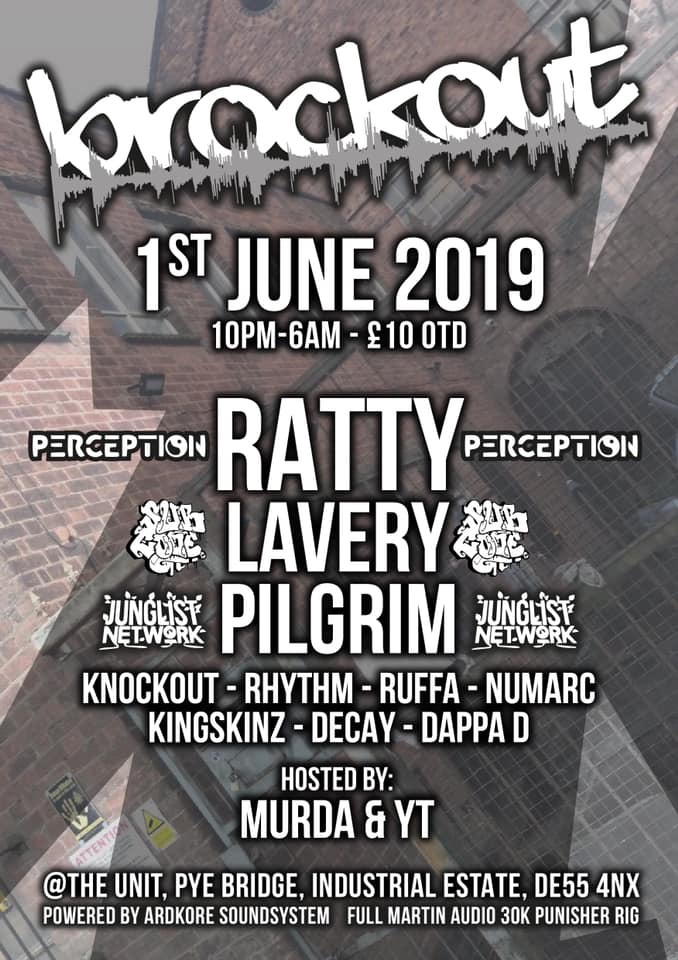 Some of Sonic Nutrition's readers are new to Jungle. Could you introduce the headliners for them?
DJ Ratty is one of the greatest hardcore/jungle pioneers of all time, the original scratchmaster of the oldskool. World wide legend, producer and DJ. Ratty is well known for some of the scene's most inspirational tunes ever, with multiple releases with fellow legend DJ Tango (R.I.P). Ratty's technical skills are top class and every time he touches the decks it's something differently special. Here's his latest No Anthems mix.
Multi Award winning DJ Lavery; this ragga muffin, vinyl pushing, oldskool Lovin' hardcore junglist is behind some of the biggest jungle tunes of recent times. Owner of Sub Code Records. He was up for three nominations at last year's We Love Jungle Awards. He was in the top three for all these catergies and nabbed the top spot for Best Breakthrough DJ. He was again up for three award nominations this year and won best break through producer!
You'd have to try hard not to have seen Pilgrim's name on the oldskool flyers from the likes of HelterSkelter, Dreamscape and a million other legendary raves in the 90's. Recognised as a scratch DJ, he is often seen using 2 copies of the same record to do loads of trickery. He's been known to use his nose, knees or elbows to work the cross fader while scratching records up beyond recognition.
I like to give a bit of limelight to less well known names too. Could you also introduce a couple of the residents?
Ruffa is the Gaffer of the legendary Unit and founder of the Ardkore sound system. Spinning records since 13 years of age, he's a big player in the scene, organising raves at the pubescent age of 15. Owner of a serious collection of rare vinyl and has performed all over the UK and abroad.
Kurrupt is the owner of Kurrupt recordings and Bass Jump records and a member of Violation crew. This DJ and Producer is well known for going in fully dark! Always brings the vinyl roughness with plenty of insane amens.
KingSkinz fully knows his jungle and has a fine collection of vinyl rarities. Catch him in the lab making beats or tearing down an underground party, causing utter carnage.
I'm in love with this video from The Unit; it looks like a good old fashioned rave bunker. Just to check, what's the capacity, and what's the rig?
It holds about 100, so it's an intimate venue for sure. It has 2 rooms, a bar area and a courtyard. Ardkore Soundsystem supply a full Martin audio 30K Punisher rig! It's heavy as fuck!!! A good thing down there is that there are no sound restrictions. 🙂
I've also been led to believe that The Unit has, shall we say, a colourful origin story. Could you enlighten us?
It's always been tough for free parties/illegal raves in Derbyshire/Nottinghamshire. Meanwhile, this small town has always needed a rave venue. Plenty of ravers but no raves!
A good friend, Shane 'ARDKORE' Coxhead, managed to get his hands on a small disused warehouse on an industrial estate and a new raving home for Somercotes was born. We finally had an alternative music venue in a good location. After a few legendary events it wasn't long before the old bill heard that people were having fun. So PC Plod and his entourage of riot vans showed up in combat mode ready to lock off the gathering as if some sort of illegal rave was going down. 🙂
Clearly Junglesoundz goes to great lengths to capture that authentic 90's free party vibe. Now, can we just establish when these events occurred?
The Unit's first party was Ardkore sounds launch night early 2012. The first time that the police turned up was the Junglesoundz Launch night October 2012.
And how did the party play out?
After Shane handed them our rights in writing and had healthy debate with the officers it pretty much became an awkward situation for them. There was no trouble, no dickheads, just a venue full of very happy music lovers! "It's a private party and unless you have an invite officers, you're not welcome".
It sounds like Shane was on top of the legal situation. Is this so, or was he just bluffing?
Haha! Yea, Shane's definitely a legal eagle when it comes to stuff like this and the front man did a top job at turning the unwanted away. The look on their faces was priceless!
And then after that?
After a few more parties with the same bullshit police intervention, visits to all the promoters houses, the pressure was too much. Without a licensed venue it seemed like the underground venture was coming to an end… I didn't particularly want to use any other venue at that point as nowhere else would cut it!
Again, to give readers a bit of clarity, can you give an indication of how long this went on for?
It went on for a year. Shane was looking at prison if he opened the venue again. But we couldn't skip The Unit's 1st Birthday so that one still went ahead, haha.
OK, so at this point, you're on the verge of quitting, then what?
I ended up organising a few jungle/DnB nights in Derby and Nottingham in a couple of different clubs. But that's not my thing, I hate club politics. After a year or so of this testing out other venues, Shane pulled through with an entertainment license for The Unit! And Boom! Party time!
The police still didn't like the idea of a rave in this small quiet area, so they were still sniffing around trying to find a way to shut The Unit. Like the time they raided the place in the daytime to find nothing but a soundsystem!
I don't get the police sometimes, they seem to let people get in a mess and fight in pubs and clubs up town but they can't let us dance around a soundsystem, out the way.
Even the council chiefs said they were happy with how the new licensed venue was doing and the fact there is never any problem or any complaints. They even offered an extension time on the entertainment license!
So we just pushed the rave scene even harder. The police left us alone in the end and we had backing from the council.
Some special memories have been made in that place.
And a few of those memories have been?
One time we had the soundsystem on the courtyard in the summer for an all day/night Oldskool party, that was a special one. The time we had Digital down was epic too! Nothing beats the first unlicensed parties in there though! Those that know, know. 🙂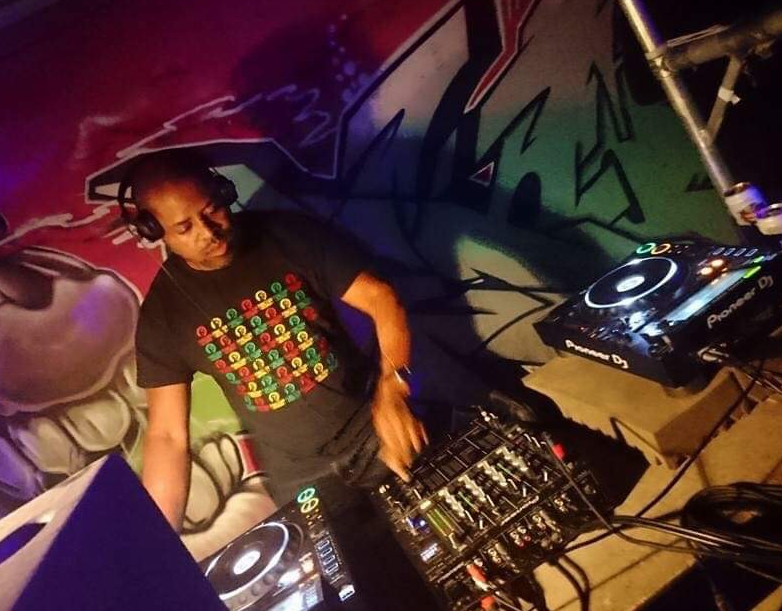 So, lets finish with an eye on the future, what's next for Junglesoundz Promotions?
A party on a farm might be on the cards. We've recently linked with The Dominion Order to launch a new night called Hellfire club, look out for that one. Oh, and definitely expect another Violation, Hard DnB event!
Any insider tips as to what to Sonic Nutrition readers should be looking out for from the East Midlands scene?
Obviously, more legendary events at The Unit. Keep ya ears to the ground for Ardkore soundsystem free parties. Look out for 'UK Jungle' and 'Deeper than Roots' events, they always go off. Some seriously dedicated jungle artists have been smashing the scene recently.
London, Bristol and the world take note, Derbyshire is taking a lead in the junglist stakes. You can keep up with what's happening via the Junglesoundz Facebook page.