Which isn't surprising really, since I've never made, never mind recorded, a piece of music in my life. However, with the covid-19 lockdown in full effect, good radio shows are exactly what's needed as a rave substitute. That being the case, I tracked down a few of my favourites to share, starting with…
Fright Night Radio, whom we've encountered previously in Sonic Nutrition's interview with K-Super. But now it's time for a proper introduction…
My name is Wayne (a.k.a. KutMasterK). I part-run the station with Nick (a.k.a. FX). We became friends via social media about 4 years ago. We got talking and realised we shared a common interest in the darker side of hardcore, Jungle and DnB.
Nick is the one who came up with the idea of starting Fright Night Radio, named after the horror movie, one of his favourites. He approached and asked me to help run it; how could I say no?
Nick, can you give us some idea of what your vision for the station is?
FX: There is no central ownership or management really. It's run by everyone who joins equally. Although a few good souls have put a lot of time and love into keeping it running smoothly over the last couple of years, that's for sure! X
KutMasterK: In that regard, another key member of the team has been James aka Manaia Toa who lives in New Zealand. Around two years ago, he took over the reins running things when myself and Nick were busy outside of the station.He designed each week's flyers, rallied the troops together and helped fill the slots; all in all keeping the wheels in motion.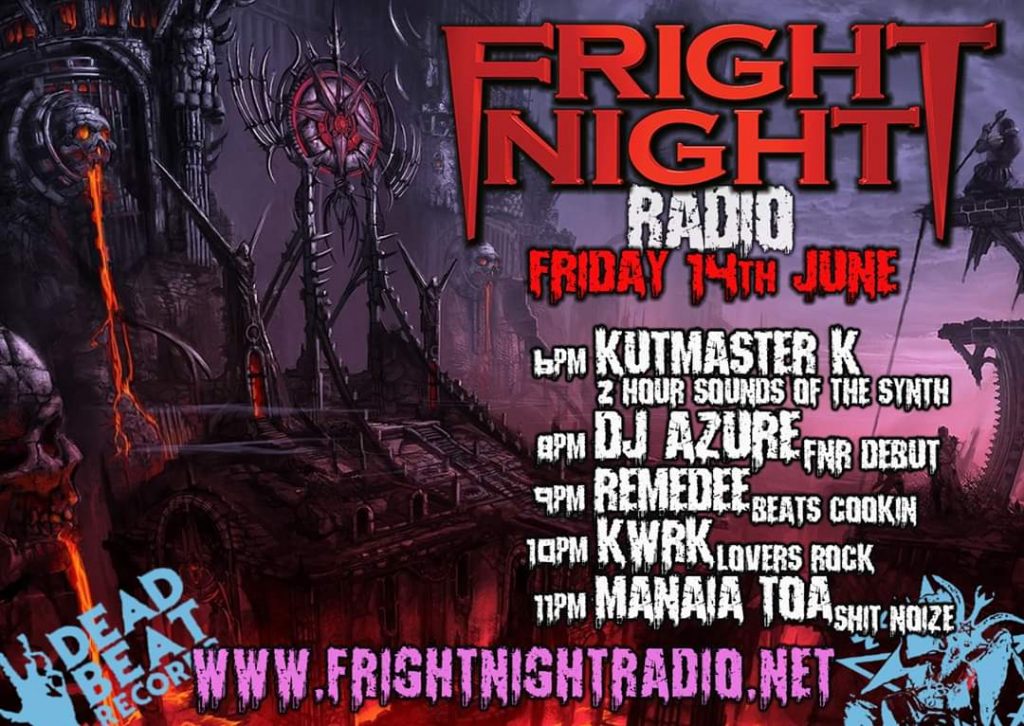 He had stepped down due to other commitments, but because of what's been happening, James was involved with a recent show and designed the flyer. He may still decide to carry on as we have no idea how long this will last. Whatever happens, we are truly thankful for his help.
Other DJs who regularly play have now started to input and help out with running things. It's definitely growing into a station where everyone is getting involved.
Before we get to the details of the station, I should give you a moment to mention a couple of labels you're involved in:
KutMasterK: Nick has his own record label, Demonic Possesion Recordings, specialising in the Lo-Fi, dark, hardcore sound; inspired from '93. Nick has produced and released 8 records with the label and has definitely captured that sound but with an added unique twist of his own.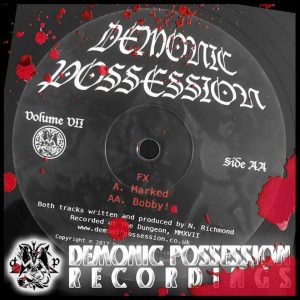 That lead us into joining forces to start a sister label to DPR called Dead Beat Records in 2017. We've had only 3 releases so far and plan on releasing more in the near future.
OK, so Fright Night Radio, when and where?
KutMasterK: www.frightnightradio.net The station broadcasts on a Friday night from 6pm through to 1am UK local time (the exact schedule can vary). Also anyone that's a DJ on the station can jump on at any time if the scarewaves are free!
And what's the format of the broadcast?
FX: Fright Night Radio is the first (as far as I know!) open forum 24/7 radio station that does away with schedules, rota's and management and allows DJs to book their own slots, or jump on live, whenever they like. The station is run by the growing community involved, and the only rules are to respect when others are on/booked and to play DARK!
We have a great group of DJ's from across the globe congregating on Friday nights though, so this appears to be the most popular time, but sets could pop up literally any moment of any day, so keep 'em peeled for links!
If you want to get involved, you can get in touch via any of the DJs in the chatroom, or Facebook – this is a station run by the people for the people!
KutMasterK: Fright Night Radio is also known as Satan's Jukebox. It's also the only station that broadcasts across the scarewaves via the dark underworld….😉
Looking back at the K-Super interview, a few of your regulars were profiled. Any other names you can highlight?
FX: So many to mention here – Wayne??!
KutMasterK: We have long list of DJs who frequent or have frequented the scarewaves in the 3 years we've been on air. They are as follows:
Clear Cutz, Azure, Maniai Toa, Ant Dub, KutMasterK, Faze, FX, J-Key, Rollin Legs, Mr Anderson, Niche, Breakbob, Parody, Raff Rider, Ritchie Ruffkut, Sista-Matic, Neurosis, K-Super and Atlas, Roko, EyeDray, Roller, Taiko, Underdog, Poison, Problem Child, Hi-Jack, Scan One, Spaceface, Dugy B, Freebase, Dark Trace, Ruff Tactics, KWRK, Tron, Raggo Ranger, Bakkus, Remedee, Sull-E, Mr Q, Just John, Abstract Drumz, Neutron, Alta Ego, Undead Mark, Invisible Man and Distant Planet's Hughesee & Louise Plus One. If there's anyone we've missed out we apologise.
Is there any DJ in particular that you'd like to feature?
KutMasterK: I once asked the legendary Tango if he'd like to play a guest show, he thanked me for asking but he declined as he didn't have a set up to play. Now that would have been mind blowing to have him on the station.
You mentioned a chat room above, what are the details there?
Yes, there is a chat-room built into the main radio page, which is designed to be light and allow the music and banter to run on your phone and in the background while you use other apps like facebook, etc.
And is there an FNR archive? Or any recordings of past shows you'd recommend?
Most DJs record their shows and post them up after they've played, or a few days later. We also have a Facebook Group page where some of this stuff gets posted as well. The best way to experience Fright Night Radio though is live, so be sure to dive in when you see the links pop up – don't get scared now!
R-Hawk
Robbie Hawkings (a.k.a. R-Hawk) is a name that's been around the South West for quite some time. But don't take from me, instead let's hear it from the man himself…
I started learning to DJ in 1992, not long after getting hold of a tape called Mickey Finn 10 at the Eclipse. I loved the idea of continuous music and wanted to know how to do it myself. So I got a cheap set of decks from a car boot sale, bought a KAM25 mixer with money from my Saturday job and it all went from there! I was a teenager during the rave era, so my influences are rave, breakbeat hardcore, jungle, drum & bass. But also I loved hip-hop in the late 80s, so breaks are in my soul!
There's some more words on my jungletrain bio.
Which neatly brings us to the focus of this article, your new slot on jungletrain.net, can you give us an idea of the content of the show?
My show is called Xpresha, which is a word that I came up with to mean "expression through drum and bass pressure". I like to play any tunes from my collection and it mirrors my stream of consciousness approach to mixing, basically I never really have a plan! I tend to keep the BPMs low, so I can play tunes from across all years.
And when can readers tune in?
The show is on alternate Sundays, starting at 12 noon/mid-day GMT and lasts 2 hours.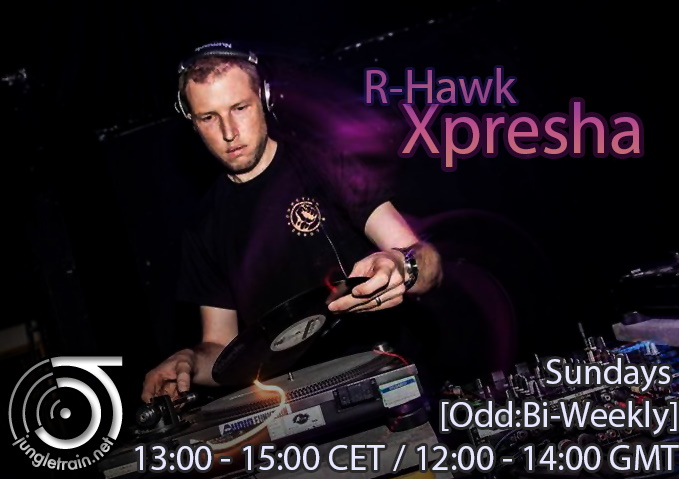 I also have weekly shows on www.onlyoldskoolradio.com, alternating Saturdays and Sundays (so I don't clash with Jungletrain!). Both of those are 4pm GMT for an hour.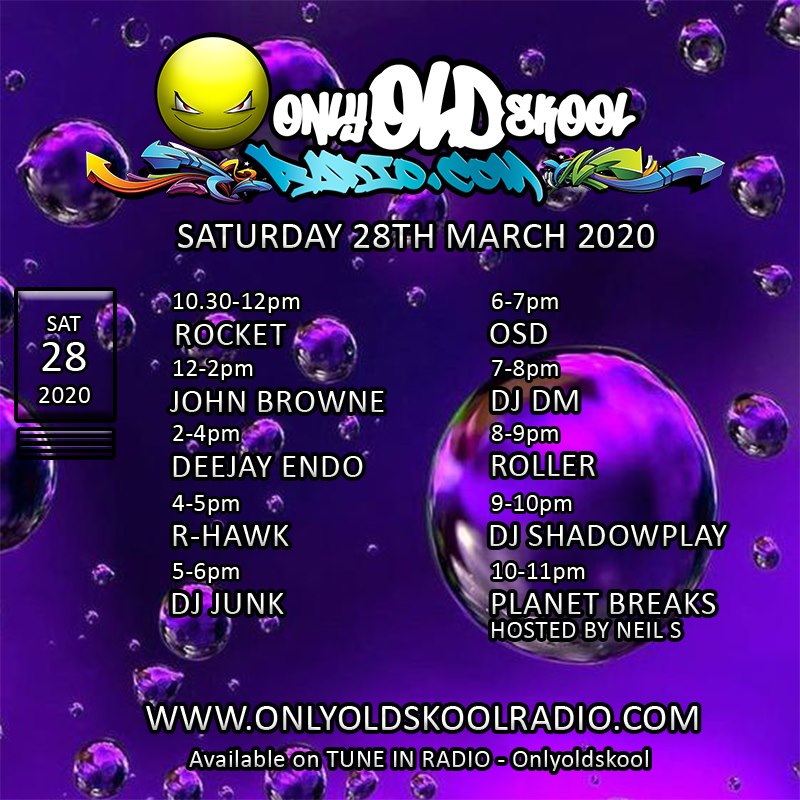 In the current environment, a great thing about internet radio is that users can interact with the DJ. What channels do you monitor as you spin?
I use the Jungletrain chat room, which I access using an app called Colloquy (but it basically mirrors the chat page on the website) and if I have the energy then I will also stream onto Facebook. Last week I did my first broadcast using restream.io which simultaneously broadcasts onto multiple platforms; so I did YouTube and Facebook. Both Jungletrain and Only Oldskool have active chatrooms. With all these ways of communicating with listeners it is really cool to be able to get instant feedback and engage with people. It definitely makes a difference to my enjoyment and the energy that I put into mixing.
I know you maintain an archive of past mixes. Where is it located and is there a mix that you're especially proud of?
You can access my mixes on my webpage and from there you can follow me on Mixcloud if you want! I am really proud of the mix I did for The Jungle_List back in April 2019; it is also the one that has had most listens (that I'm aware of anyway).
Problem Child
Regular readers will be familiar with DJ Problem Child from last year's feature on Coventry's Subculture. Nonetheless, Louis, can you (briefly) introduce yourself?
I like to spin new and old jungle/dnb, oldskool hardcore and nuskool on vinyl.
Short and to the point. Any favourites from the past you'd like to highlight?
My influences when I was first getting into this music was DJs like Top Buzz, Ratty, Bukem, Fabio & Grooverider, Jumping Jack Frost, Bryan Gee, Doc Scott etc. on tapes from the Eclipse/Edge, Dreamscape, Dance Trance, Helter-Skelter etc.
Oldskool Producers I like include Tango (rip), Photek, Ray Keith & Nookie, Skanna, FBD Project, Dillinja, Rufige Cru, Nasty Habits, Bay B Kane, Junk, Bizzy B and Source Direct.
And coming up date, what would you recommend?
As for New Producers, I'm into Dead Man's Chest, Double O, Redshift, Outer Heaven, ASC, Threshold, FX, Worldwide Epidemic, FFF, Theory, Forest Drive West, Eusebeia, Response & Pliskin, B-Key, Dub-One, Levl, Aeon Flux, Necrotype, Tim Reaper to name a few.
New labels I follow are Ako Beatz, Rupture, Scientific Wax, Silent Force (on which I appear on 2 releases as part of Redshift), Cylon, Western Lore, Spandangle Selection, Demonic Possession/Dead Beat, 7th Storey Projects amongst others.
Like R-Hawk, you've got a jungletrain show, what are the times for your slot?
I play on jungletrain.net fortnightly on Wednesdays 10pm-midnight spinning the styles and labels mentioned above.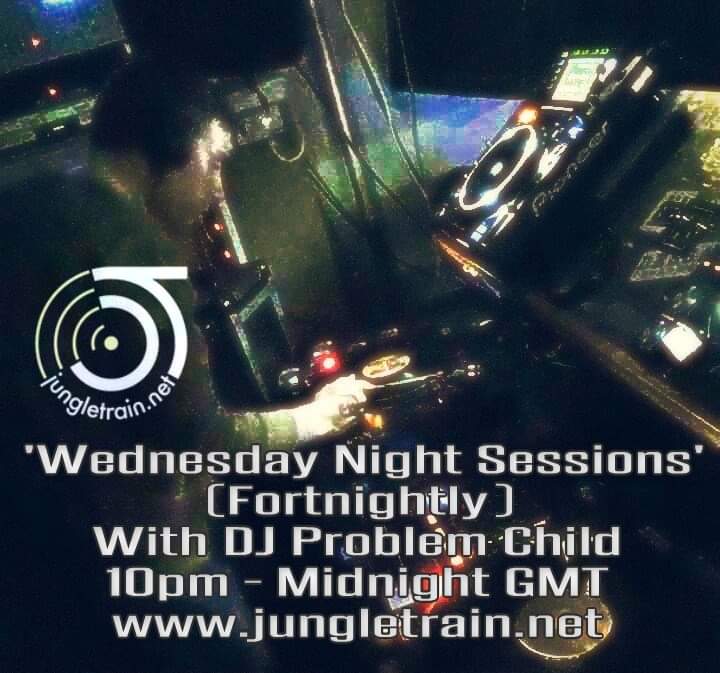 You also guest on Only Old Skool radio. What are the details of this show?
Yeah, I play a guest show now and then. It's a station dedicated to oldskool and dnb.
You're another archivist of past mixes. Where is your's located and what is the standout mix?
Yeah, all my mixes are on Mixcloud … I'm not sure what the stand out mix is, but the one I did for Sonic Nutrition is pretty good 😎
And with that, I'll just ask everyone to sign off with their shout outs and big ups…
FX: Have to big up Kutmaster K, James (Splash/Manaia Toa) and Sista-Matic, among others, for putting together flyers week in week out and for some of the bigger nights we've had on. HUGE respect to the Pick & Mix Sound system for hosting a FNR all-day party last year, Meffry for the INSANE social media write-ups and also to all the regulars that dwell in the shadows of the crypt when we're in session…
Saving the biggest mention though for all those that are keeping us safe and sound in these times of Coronavirus uncertainty. Radio seems trivial at this point, but it can also be a good outlet to keep people connected and in a positive state of mind, so we will be here 'til they literally turn off the Internet!
Kutmaster K: I'd like to to give a massive shout out to Nick FX who originally came up with the brainchild, Fright Night Radio and asked me to be involved. Also, thanks for giving me the opportunity to be involved in creating a tune in his studio and releasing it on our joint label, Dead Beat Records. That was the debut release, Dead001: Monster / Dark Inside Me – FX & KutMasterK.
R-Hawk: Big up yourself and Sonic Nutrition and everyone else here 🙂 Big ups to DJ Endo, DJ Azure, Leftarm, Aftershock, Daniel Foster, Mr Anderson, Selektabwoy (Bristol Junglist Crew). All Bristol music heads and people that make it such a good place to party. Nick and Danny at Only Oldskool Radio, all OOS DJs and chat room regulars! Psygn at Jungletrain for getting me set up and all chat room crew for making me feel welcome. Big ups Dan Monk and all The Jungle_List Admins, definitely appreciate being a part of that and they make me laugh a lot! Massive shout out to all the music producers without whom I'd have nothing to play! All Facebook friends and DJs – definitely a good community (too many to mention)!
Let's all remember what is important during this strange time we live in; look out for each other and be grateful for those people and services keeping us safe. Peace, love and beats!
Problem Child: Big upz to yourself, Nick FX, KutMasterK, R-Hawk, OnlyOldSkool, jungletrain, DJ Dean, Simon Spandangle Selection, Enfusion & Pegasus, Dugy B, Neil Trix, Stretch, Double O, Outer Heaven, Shirlz & Mung, Rodney & Lauren at Humans on Wax, Redshift, Mark Silent Force Recordings, DJ Timeless, Aeon Four and anyone else I have missed, but most importantly to the National Health Service and all those who are really tackling covid-19 on the front line. 😎
Sonic Nutrition aims to be a reliable source of information about it's chosen subject. However, that chosen subject isn't public health and, unfortunately, reliability isn't the watchword of everyone on the internet. So, if you're still in a reading mood consider snopes's or fullfact's dedicated coronavirus pages. Apart from that, stay safe, stay in, listen to the radio and support the NHS.