It's always encouraging to gain a new follower on Twitter and doubly so when that follower turns out to be a junglist whirlwind like Kayleigh Bradbury (a.k.a. K Super). Together with partner Atlas, she's the brains behind Manchester's Certain Sounds; not to mention whole host of other activities which we discuss in this interview.
Let's start with Certain Sounds, what is it and what's your involvement?
Certain Sounds started off as a Saturday Mixlr stream with myself and Atlas doing b2b sets. After a while we started doing a monthly slot (First Tuesday of the month) of 'Certain Sounds' on Futuredrumz Radio. We always liked to play one style on the hourly shows, so one session would be Drumfunk, the next would be Techstep, etc. Naturally, we decided that this concept would be cool for an event.
Me & Atlas had lived in Manchester for around 7 years at that time and we'd been to our fair share of events in the city. But we wanted to showcase some different stuff that we weren't really hearing in Manchester. So decided to set up the event.
We set an ethos for the event of one style all night, with 1 headliner showcasing their signature sound on a quality independent soundsystem in an intimate venue with cheap entry and the residents (myself, Atlas & Amen Holmes) warming up with the vibes that match the style/sound of the headliner.
So, for the debut event, we had PFM headlining. He dropped a 2 hour classics set and we warmed up with 2 hours of all atmospheric DNB/Jungle. It was a different from what you tend to hear in a club environment, but rolled out really well and was a nice opportunity for us to play something a little different from our usual sets.
And what is the next Certain Sounds event?
Our next installment is on 6th July, when we'll be hosting Fright Night Radio.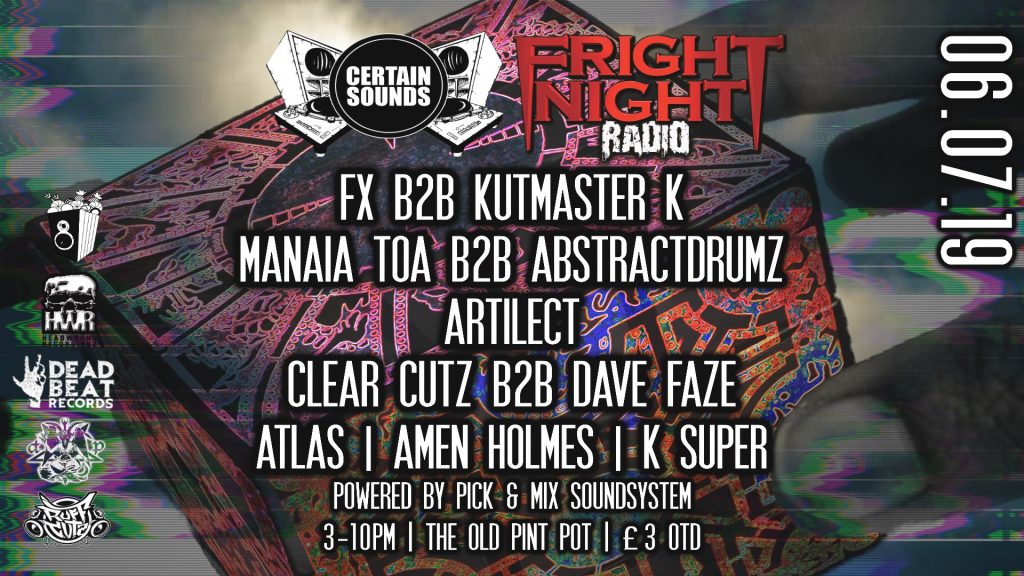 It's an outdoor all-dayer event from 3-10pm at 'The Old Pint Pot' in Salford. Again, bringing something a little different to the city, with most of the DJs on the lineup playing for the first time in Manchester. It's looking to be a wicked day, we're really excited about this lineup. Vinyl sets all round too! Here's hoping the rain stays off, but it is Manchester, so fingers crossed!
This event follows a slightly different route than previous Certain Sounds events. We'll still be sticking to one vibe… but instead of 1 headliner, we have a big bunch of back to back sets throughout the day.
As always we've got the mighty Pick & Mix Soundsystem providing the sound, so it's gonna be a weighty session for sure!
I'm not familiar with Fright Night Radio, can you introduce them?
Fright Night Radio is an online radio station that started about 2 years ago and airs on a Friday night. The station primarily focuses on the darker, ruffer and distorted sounds of Old Skool/Jungle & Drum and Bass. FNR was set up by FX (Demonic Possessions/Deadbeat Recs) and is pretty much run on a community level by a handful of people who look after the station and keep it rolling and airing every week.
Here's as session that we've done previously for the station:
I'd been a listener to the station, loved the sets that were getting dropped each week and gained a lot of respect for the people involved. That's one of the main reasons we wanted to do something for that (the FNR) community. The chat room is always buzzing; full of friendly, good groups of like minded heads. Personally, I think a lot of the DJs involved are super underrated. Week in, week out, you've got quality selectas dropping killer tunes & tearing up, yet people don't get to hear these DJs playing out enough. So, for that reason, it's great to host the event and give the crew a chance to do their thing up north!
When it comes to events, that's what Sonic Nutrition is all about – promoters who believe in the artists they're putting on. So let's hear about who is on the bill in more detail.
FX & Kutmaster K (FNR/Demonic Posessions)
First up, we've got the dark lord of both FNR & the label Demonic Possessions, FX teaming up with veteran Kutmaster K. The two run DeadBeat Recs (Demonic Posessions sister label) together and have collaborated on tracks and sets before, so a b2b of these guys had to be on the bill. No doubt they'll deliver an education in darkside vibes and drop some hidden gems, I know that Deadbeat 003 is being released soon so hopefully we get a preview of that!!!
Manaia Toa B2B AbstractDrumz (FNR/Headwound Recordingz)
Flying over from New Zealand, we've got the bringer of noise, Headwound Recordingz Head Honcho and one of the main men behind FNR… Manaia Toa. He's going b2b with Abstract Drumz, a producer from Wales who's been killing it as of late. He's got his Dredd Remix dropping on Headwound pretty soon, and the two have been cooking up a number of dubplates of late, so it seemed perfect to link these two up for a set.
Dave Faze B2B Clear Cutz (FNR/Eruption Radio)
Two of my personal favourite DJs, well respected in the underground… absolute killers. No gimmicks, these two are just pure DJs and, my oh my, do they do it proper. If you haven't checked these guys out yet, I recommend you do. Dave Faze has a residency on Eruption Radio and you can find Clear Cutz on a regular rotation of radio stations.
Artilect (Samurai/Rupture)
He's been killing it in recent years with releases on some of the scene's biggest labels from Samurai to Rupture. A veteran DJ with next level skill on the decks, I'm super excited for his set. No doubt he'll bring something a little different to the event with his own dark twist.
Atlas, Amen Holmes, K Super (Certain Sounds)
The residents will warm up with some short sets of dark and rugged beats before linking up for b2b2b later on.
So, I believe there's a back story with Artilect. Can you fill us in on that?
I've actually known Dylan, a.k.a. Artilect for over 10 years. Alongside Atlas's brother Esetek and a few others, he was part of the Audiosalad crew; a legendary Manchester event.
When the opportunity came to put him on a line up, it had to be done. Dyl is a wicked DJ and someone whom I owe a lot to. He helped me a ton over the years with advice on my productions and DJing, as well as giving me a proper education in beats and all things music growing up and still to this day!
I've seen the work he's put in over the years, so its really cool to watch him develop. His production rate has been off the charts and it's great to see him get recognition for his work with releases on some of the most respected labels in DnB.
For me his release on Outsider, The Blackness as Deeperheightz (alongside Buda), was pivotal as a teenager. I remember being like 'Wow, I know someone with a release on vinyl' haha! Seeing someone I look up to achieving that inspired me to do the same, it took some time but I got there eventually.
But my personal favourite, one that I could listen to over and over, has to be Black Lake. The tune went under the radar a bit, but for me it's a masterclass in deep, dark, tear-out dnb. Combining solid sample use with dark and light atmospherics accompanied by those hard hitting beats and bassline. Yep, for me, that tune is perfection.
And what about you, describe your style.
Its all about the beats!!! Whether it's a mad edited funky drummer or a weighty steppa, I have to have them chunky breaks, haha.
Generally, you'll catch me playing a lot of ruffneck beats, old cylon and renegade hardware records. I love that late 90's – early 00's ruffige vibe, it just goes in like nothing else; raw, rugged junglism.
However, I do love me some mid-nineties steppa's (V Recordings, Test, Hardleaders, etc.). It always goes off pretty much anywhere you play, and it's crazy fun to mix. I love how it has that mix of the rugged beats but a proper fun, upfront vibe to it.
I've recently been playing a lot more Old Skool Hardcore stuff, I've always been a fan but often got stressed out mixing it, it's tricky business haha. Atlas is really into that older sound and most of the time that's what you'll catch him playing. So yeah, he's been getting me into it, so I'm playing it a lot more these days.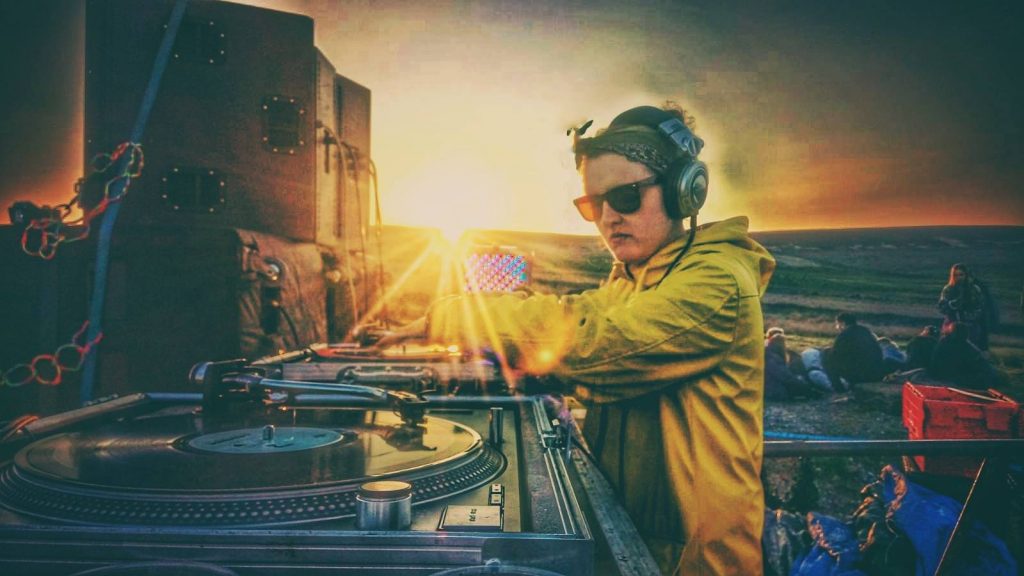 The gig is powered by the Pick 'n' Mix sound system. What is their pedigree?
The Pick & Mix Soundsystem is run by two mates of mine (Shouts to PC & G!!!) who I met through Amen Holmes. They'd been doing free parties for a good while before I met them and had built up a reputation for being a quality soundsystem in the North West.
They'd hooked us up with a set for one of their free parties, which also happened to be my first performance at a free party. It's was a link up with Mendez under Trafford bridge sometime in 2016.
Hold on a second, who are Mendez?
Mendez is another free party/soundsystem crew from Manchester (Shouts to Fred!) The system has been around since around 2010 and become renowned in the North West free party scene.
Cheers. So how did that gig go?
Quality rave, it was rammed with dope sets all around. The Police were friendly and didn't shut us down (which is always nice) and we rolled out 'til around 7am.
Anyways, from there Pick 'n' Mix got me involved more and I became a resident DJ for the crew and have been doing events/free parties with them since.
They're the resident system for Certain Sounds, the rig is as weighty as anything and is perfect for DNB/Jungle. For me it's one of the standout points of the event… The sound always delivers.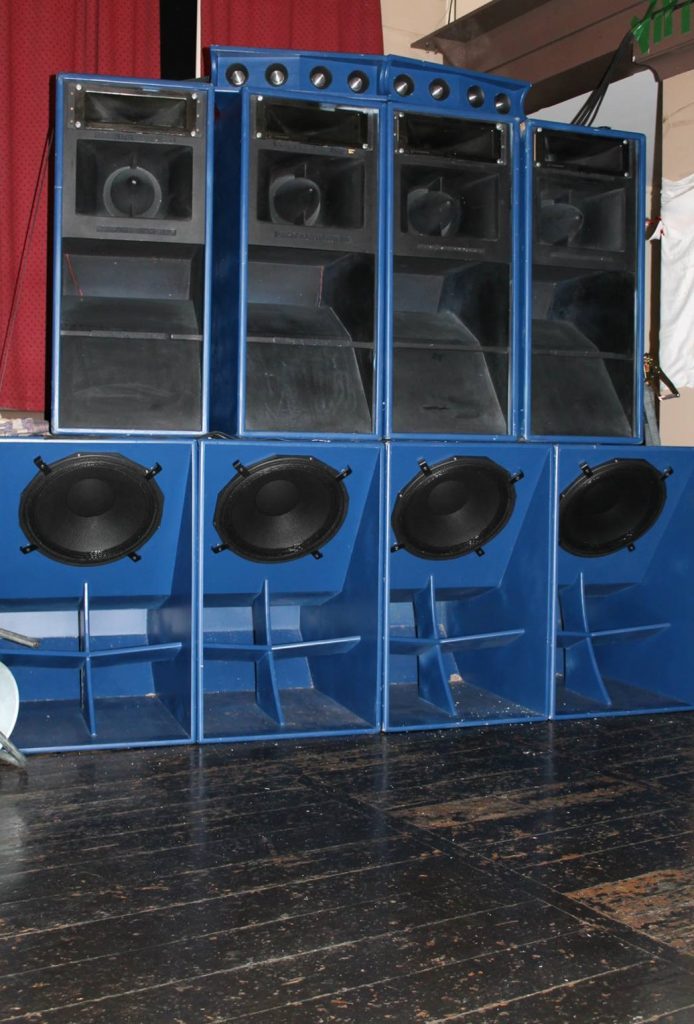 So this is a daytime event. Is the audience better behaved at these hours of the day rather than at the at all night affairs?

I hope not! The rowdier the better, our crew as a whole are quite a lairy bunch, so it's welcomed. Nothing makes me more happy than seeing someone losing their shit to a tune, or someone shouting "oi oi fuck off" at the DJ, haha!
If I catch anyone at the back, not dancing and trying to act cool, it's likely I'll pull them on to the dancefloor… we ain't about them moody dances! These events don't come around often so its a good excuse to let loose, forget about everyday shit, enjoy the tunes and be with you mates…which for me, is what its all about.
I'd say that's one thing we took away from the Audiosalad crew, we know how to throw a proper party!
And I've got to ask, is the name Certain Sounds in any way inspired by First Corinthians, chapter 14, verse 8?
Haha, no, it's actually came from Paradox – A Certain Sound, with a slight spin on it. It's a firm favourite in our household, Atlas's brother Esetek used to religiously drop it during his sets at Audiosalad (specifically, the Drumworks VIP Remix).
So, when it came to naming the event, we followed suit from the radio show and kept the name rolling. Also, it fits quite nicely, as we always tend to play a 'certain sound' (excuse the cheesy pun) at each event.
Moving on to your other activities, you're also resident with Ruff Cutz. Tell us a bit about that.
Ruff Cutz is a event/label set up by Alex a.k.a. Amen Holmes around 2015. I spotted a Facebook post that Alex had put up looking for DJs and got in touch. Me & Atlas went b2b at the debut event and then Alex asked us to be residents, and he's been stuck with us since.
Previous events have seen Champa B, Ricky Force and Dwarde headlining. A mega link up with Vinyl Fanatsy last year saw Dj Crystl drop his first comeback set; we also had Globex Corp and Peshay on the lineup too. My ladders crew I see you!!!
He started the label about a year or two later, and has dropped a few digital EP's before the first vinyl EP (The Run Inside EP) last year. It's an oldskool Hardcore themed EP featuring the likes of FFF, Champa B, Chappy T & Radaman. It's super dope.. go check it out.
He's been focusing on releases as of late, but I know he's got some events back in the pipeline for 2020. So keep an eye out for that.
So, you've mentioned that Ruff Cutz is also a label. They've made a rather significant release recently. How about you tell the readers about it.
Yeah, the label's second vinyl release, The Pullin' Teeth EP dropped back in May. It features the tracks Raw Science (Drum Cypha & Marcus Ruffige), Pixl, Black Orchid and a collab from myself and Atlas entitled Kira. This release is a little different from The Run Inside EP release it's on a darker DNB/Jungle tip, a proper heavy hitter with breaks and ruffige a plenty!
We dropped the track's test press at the last free party we did which was cool. I've always played vinyl so its nice to finally mix your own music on your favourite soundsystem… Granted, I'm biased, but yeah, it was really special.
Shout out to Alex. We've always been working toward having a track on vinyl since we started making tunes. So, it was super cool to be able to drop the first one we got on Ruff Cutz.
You've mentioned Atlas on a couple of occasions now. Could you introduce him and give me an idea of how you two started working together?
Yeah, so Callum a.k.a. Atlas is my partner, we've been together since we were 16 so just over 12 years.
Callum gave me my first real introduction to Drum & Bass/Jungle. He played me Alaska & Seba – Back To Eternity on a lunch break when we were in high school. I remember been blown away by the construction and speed of the drum breaks and the ambience of it. I'd genuinely not heard anything like that before and it was on a super dope white vinyl, so yeah, I was pretty much hooked from there.
His brother had taught him to DJ when he was quite young, so he'd had his 1210's a while by then. I asked him to teach me to mix a few tunes, he gave me the K Super name and it stuck, and I carried on DJing from there.
In that time we've played b2b sets at events such as Rupture, Jungle Syndicate and Formless. So it's pretty cool, we get to enjoy, create and discover music together.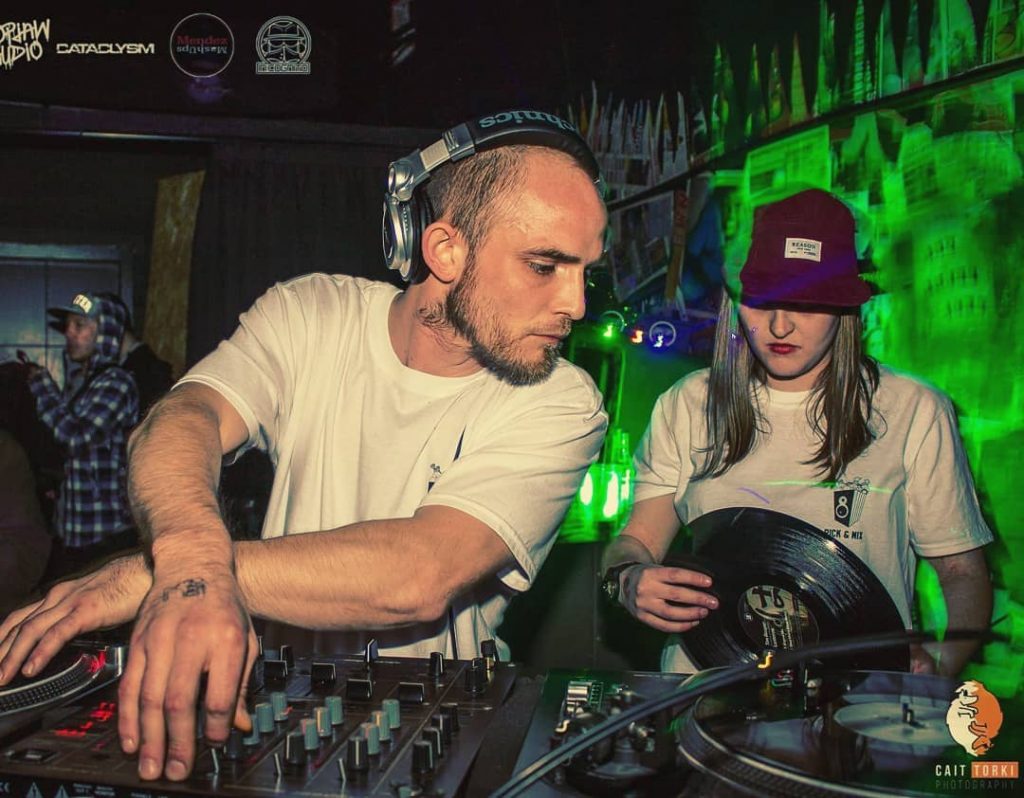 Can you give us a bit of insight as to how you and Atlas collaborate, both as musicians and promoters?
We actually bought our first production computer, with Reason version 3 or 4 installed, from Artilect when we were around 18 (so 2008ish). We bought a cheap midi keyboard and from there and started making tunes together. Originally our set up was under our decks table, so we had to sit on the floor to make tunes in his room at his mum and dad's house.
We've upgraded a lot since then, we use Cubase now with some Adam Speakers among other bits and bobs. Atlas is really getting into older production techniques. We've currently got an Akai Sampler set up and an Amiga too. We're gonna give our bass room a redo this summer to have everything rolling for a production heavy winter.
As promoters, Atlas isn't online at all, so I sort out the admin side of things, promo, social media etc… But when it actually comes to putting line ups together we just sit down make a list of all the people we'd like to see; checking things like whether they've played Manchester before, do they have a signature style we can fit the event around and work from there.
In the course of setting this interview up, you've been teasing me with word of another release. Now it's time to spill the beans…
Yeah, we've got 160bpm 4×4 slice of old skool hardcore forthcoming on Headwound Recordingz. It will feature alongside tracks from AbstractDrumz, Programs in Memory & Breakbeatscientist.
We met Manaia Toa through the Fright Night chat room and hit it off, and then met him in person when he came over to the UK last November. He's a super nice dude. He's been really supportive of our tracks and a great point of music advice, so we were buzzing when he asked us to cook something up for the label.
That's quite a C.V. you've built up thus far. I'd like to know where this passion for all things jungle began…
Hip Hop was my first love, I've been listening to it for as long as I can remember. Jungle came with meeting Atlas and from there going to those Audiosalad events. The first one I went to, Loxy & Double 0 were headlining; this was in around 2008. I remember walking down the stairs at Joshua Brooks and I'd not experienced anything like it before… it was like a whole new world of music and partying.
Me and Callum would finish college on a Friday, get the train straight up to Manchester, go to his brothers and then they would sneak us in on the sly…. Callum looks a lot like his brother so he'd walk straight past the bouncer, no problem. I looked young so I'd tend to be bunched in the middle of the girls getting quickly ushered in past the bouncer… shouts to Vic, Justine and Ali!!
Sneaking into events as a minor? Scandalous behaviour!!!
haha yeah, not your usual Friday night for someone not long out of high school. It really did give me an education in beats and a respect for DJing. The guys would rock up with the heaviest boxes of records and just kill it from 10-3, then throw an epic after do.
I was just in awe of it all, like yeah I wanna be like them guys, haha, and to this day it has stuck. Their style, sound and overall vibe has stayed with me.
To finish off, who should we be looking out for from the
Northwest?
Well, summer is coming up, so it's the best time to look for free parties… we've got a Pick & Mix free party on 29th, Partyline is doing the rounds for that. ????
Events wise, Vinyl Fantasy, Jungle Syndicate & Formless are 3 of the standout events in the North West for me, consistently good lineups playing pure undiluted quality Jungle/Drum and Bass.
Distilled Beats is small event run by Atlas & Waluski, they usually do one every month or so. The event tends to have a mixture of vibes from Hip Hop and Funk to Jungle. Normally, I play Hip Hop from early on then Atlas & Waluksi tend to drop some good vibes jungle and old skool toward the end. Free entry, come check it out!
Big shouts to everyone supporting the event and music, much love to the crew, you all know who you are… big ups!
You can keep up with K Super (and Atlas too) on Facebook, SoundCloud and Mixcloud. Just don't skulk round the back of the venue if you go to one of their gigs.