Croatia's Membrain Festival is graced by a stellar cast of low frequency over-achievers this August. CEO Davor Dedic is here to tell you all about it, as well as arguing the case for the Dalmatian coast as a venue (as opposed to your local dingy sweatbox).
I'd like to you to begin with a brief summation of what Membrain is:
Well, this is the fourth year for the Membrain festival in a row. It all started with a simple vision to create a community-based event where likeminded people can meet and have a home, you know, a family vibe. The main focus was always on the underground urban culture, because I believe without subculture you don't have a culture.
The vision for Membrain is to be one of the forefront underground festivals where you will hear artists that are breaking the mould and bringing the next coming flavour. I never saw Membrain as a commercial money making machine, I've been in the music business for over 20 years now and felt this was my way of showing that there is more to it than just money. Next to the fact that I got really tired of how uninventive and ignorant industry has become when it comes to creating or giving opportunities to talented people who want to make a difference.
And what are the details of this year's Membrain?
This year Membrain festival is taking place from the 8th to 11th of August. We are changing location slightly, still the same city (Šibenik – Croatia), just moving across the channel from where we were for the last three years. This move is going to be significant for us as it offers the opportunity to welcome our community better than we were able to do so before. Most importantly we have camping.
The significance of the move doesn't only include that. We are also joining forces with 6 other independent festival organisers in the region at this location, with the idea to create a next go to place for alternative culture events. Then we thought, why not throw the best housewarming party we can, so we decided this year Membrain should go even deeper, darker and stronger under the light of the Croatian sun.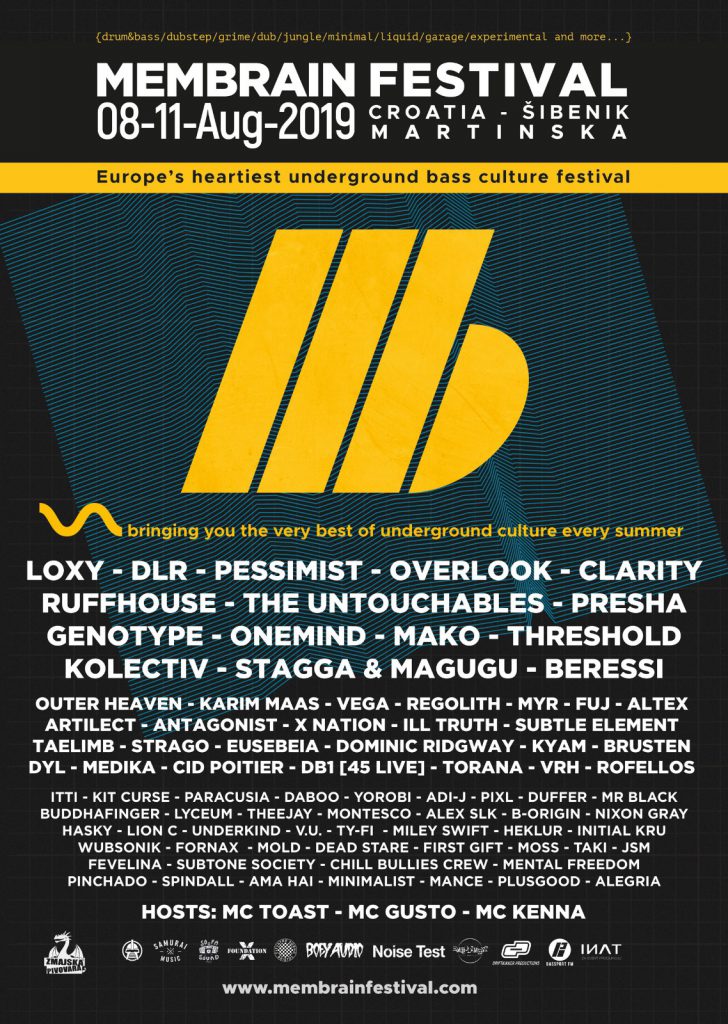 That's quite a line up, now, can you tell us about the festival's physical environment?
Thank you, we are very proud of the lineup that'll be celebrating our new location, a beautiful pier called Martinska. It's an abandoned camping site from the times of former Yugoslavia, with the pier consisting of lush pine forest surrounded by Adriatic sea on the Dalmatian volcanic rock.
We'll have 3 stages, a day stage and two evening/night stages and all stages are rigged with the best Croatian home made soundsystems. We're serving local produce as well and keeping local prices on food and drink throughout the whole festival; that on it's own is already an experience, I believe.
Personally, I can't wait to hear the lineup blasting through the soundsystems in this magical setting. It's also worth mentioning is that Membrain was conceived as a limited attendance event, so that we can keep that family vibe going. As this is our first year at the new location this will also serve us as a testing year; thus, we are limiting the tickets to 1000 this year.
So, have any of the artists taken a lead in curating any of the stages?
I'm quite happy to announce this year partnership with Medika, boss of Bristol's Noise Test and a Membrain attendee for the last two years, and Fuj, who runs Embodiment Media and has recently moved to Amsterdam. After a chain of events that led us together, we realised that we share the same ideology and enthusiasm. So, this partnering came as a natural flow of things, and, as far as I am concerned, the only way how this community should grow, naturally and without force.
So, yeah, after talking with Medika last summer I made a decision to let her curate most of the festival this year, which led to stage takeovers from Loxy's Cylon Recordings, DLR's Sofa Sound, Presha's Samurai Music, Boey Audio, Foundation X and Elevator Sound.
And what about you, what performances are you especially looking forward to?
I think that's always one of the toughest questions that I have to answer. I love all of the artists that are preforming on my festival, I wouldn't have greenlighted any of them if that was not the case. But, if you really have to pin me down, I'd have to say Clarity, Overlook, Torana, Outer Heaven, Dead Stare, Pinchado, Yorobi,.. you see.. Told you, it's a tough question to answer. I could just keep going on haha…
And can readers get a preview of what they'll be listening to?
Oh yes, absolutely, there is a Spotify playlist that we are curating and adding heat to warm you up for the summer, you can find it here:
Alongside that, we'll soon be updating the Membrain Mixcloud with promo mixes from this year's artists.
OK, by now, Sonic Nutrition readers will be salivating at the line-up. Let's focus on the location again. How about a picture that tells a thousand words:
How many words does a video tell?
You mentioned a waterfront stage. Do elaborate, are we talking dancing in the sea here?
Funny you should bring that up. Sorry, there was a slight misunderstanding here, the so called waterfront stage is our day stage, and it has a beautiful view at the historical city of Šibenik across the sea. As mentioned, the location is surrounded by the sea that's easily accessible. Next to that, the soundsystems we have are quite something, so you should be able to enjoy yourself at the beach, while surrounded by sea and bass. So, in that way, people can definitely enjoy dancing in the sea.
I've also heard rumours of a Tortoise Sanctuary. Please tell me this is true.
Definitely, Yes! You heard that right. There is a little turtle sanctuary at the fountain in front of the church "Gospe van grada" ("Our Lady Out of Town"). The animals are considered everybody's pet in the local community and are one of the symbols to the city. This happened by 'accident' when workers from the city council left couple of tropical tortoises in the fountain, this led to more 'homeless' tortoises finding their home in the park where all are well taken care off. Definitely a sight to see!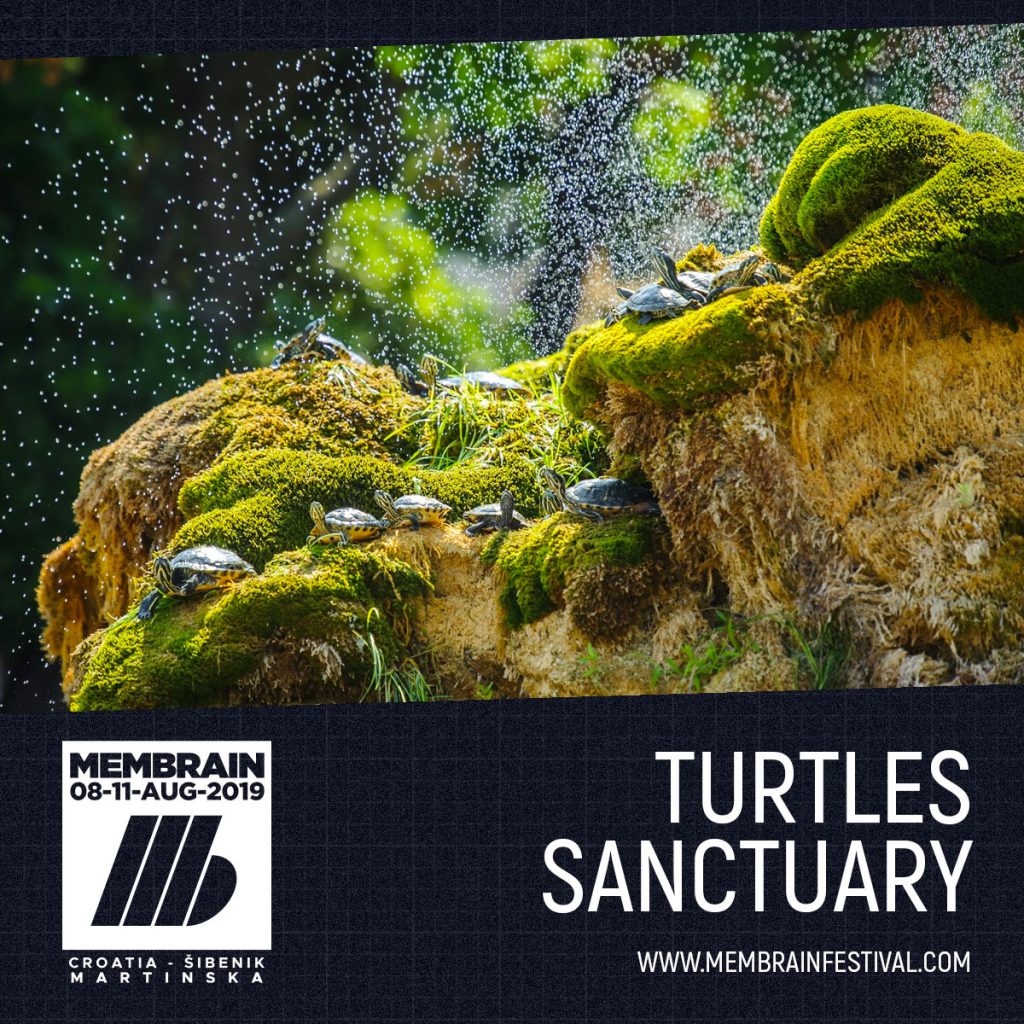 Can you provide us with details about the practicalities of getting to and staying at the Membrain Festival?
Naturally, to find your way to the city of Šibenik and Martinska we have created a page with all the info to help you out.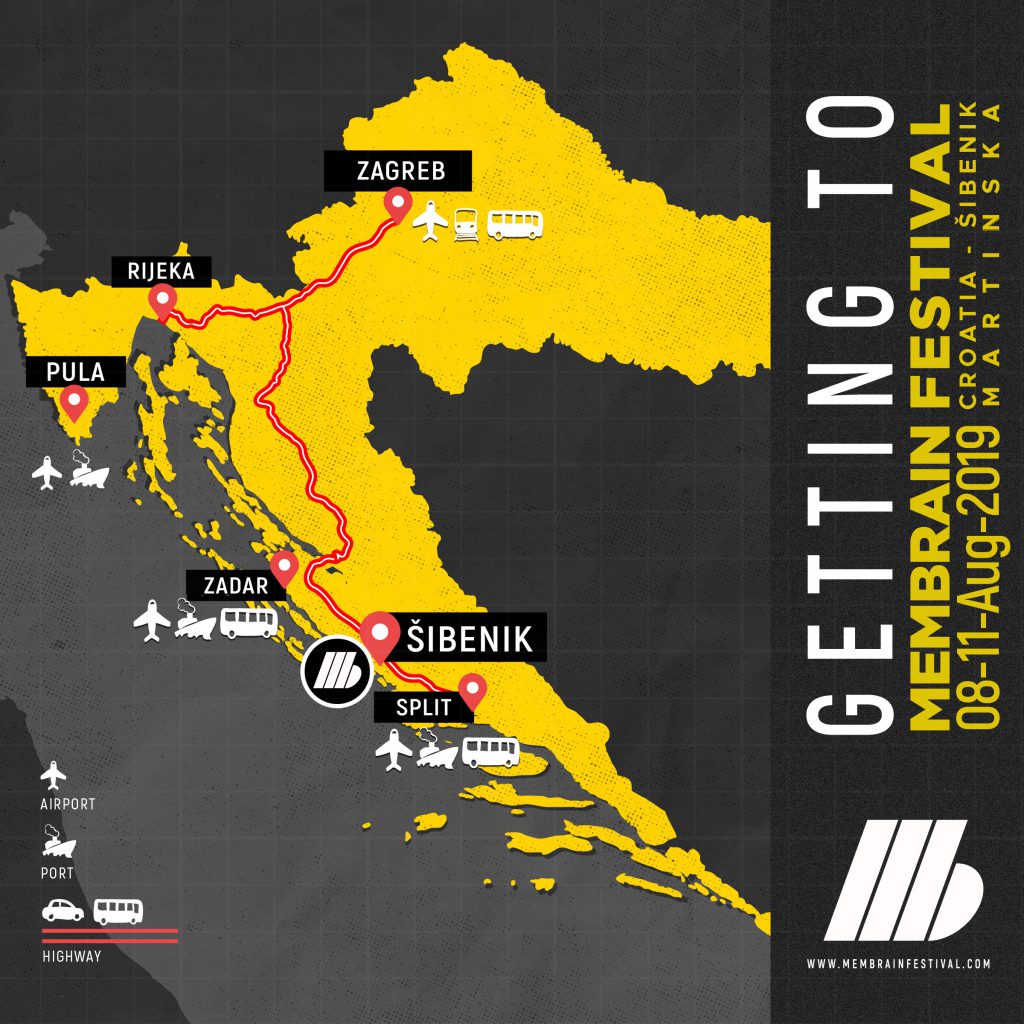 Campsite:
Camping on festival site is available and free with every full festival ticket, while there is enough free space, i.e., the capacity is limited. The rule is: First come First Served. Camping is a 'Robinson' class type. If camping is not your thing we also have an interactive accommodation map handy that includes all Hotels, Hostels, airbnb's villas etc.. available for booking in the proximity of the festival location.
Carriers:
Split and Zadar would be your best options for flying in from UK and Ireland. You can fly with Ryan Air or Easy Jet as they have the best deals on the flights during the summer. Both airports are similar distance from Šibenik, about 70km, and are regularly connected by an hourly coach service with Šibenik.
Tickets:
and last but not the least, you can support us buy buying a ticket directly from our website.
Well, it looks like it's destination Membrain Festival this August. Should you need to know more, there's a website, Facebook page and Instagram account.
The festival has also been covered by Producer Hive.