A new endeavour is always enticing, which is why I was glad when a reader brought Bristol's latest promotion, Chop Shop, to my attention. I duly made contact with one of the crew, Joe Christian, and was pleasantly surprised to find that I will soon be making a rendezvous with a favourite label of mine.
OK, lets get started with your upcoming show.
Our next gig is on 9th November at the Island, Bristol. Chop Shop presents Western Lore. Tickets available from Headfirst.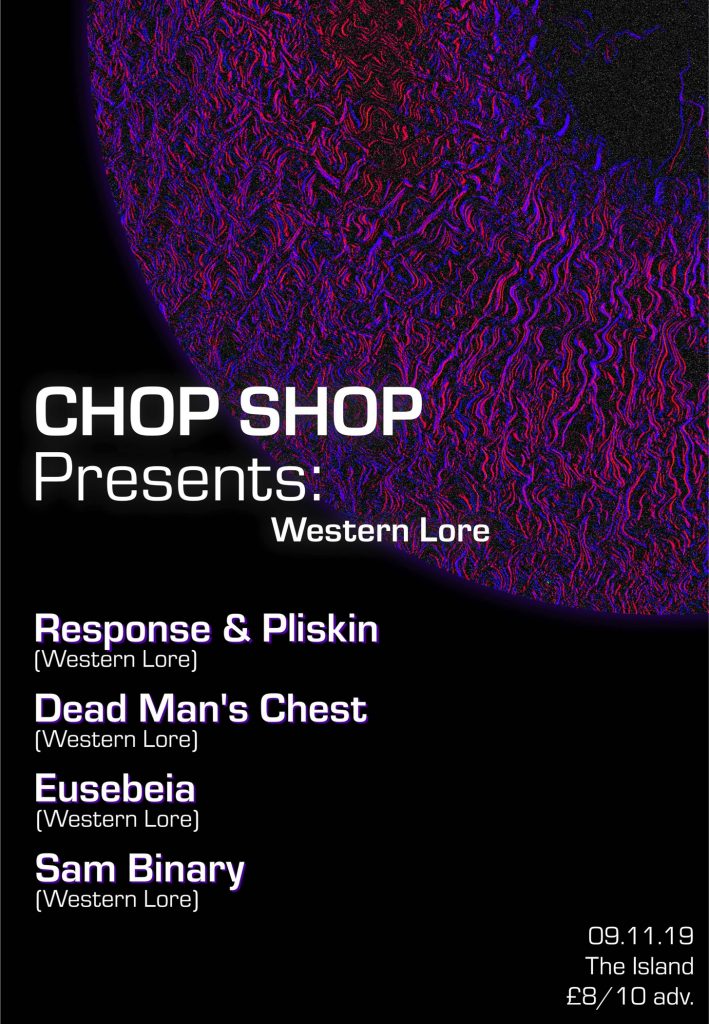 Tell us more about who's on that bill.
We're really excited to be teaming up with Bristol based record label Western Lore and bringing a night covering a broad spectrum of jungle and breakbeat music. We're getting brothers Response & Pliskin down from Manchester, following the launch of their own record label, Northern Front. If their recent and forthcoming releases are anything to go by, we're very excited to hear what's in their record box.
Joining them will be Western Lore head honcho Dead Man's Chest. He was one of the artists we really wanted to book when we were dreaming up Chop Shop, so it's great to have him play for us on only our second night. Not to mention being trusted to collaborate with Western Lore for a full line up.
Eusebeia is a bit of a mystery to us, we don't know all that much about him. His music is similarly shadowy, dark and minimal. We're looking forward to hearing his music played out on a proper sound system with some weight, rather than my headphones…
Sam Binary has been playing out all over Bristol recently, he's got a really broad knowledge of the scene and a really versatile track selection. As well as being a resident DJ for Western Lore, he's also a talented producer, his 35 minute unreleased productions mix on his soundcloud is chock full of gems, and that's just his unreleased stuff!
Good to hear a promoter that's enthusiastic about their bookings. Now, how about a couple of recommendations from the line up?
I really like Persecution by Response and Pliskin, it's a long track (12:30) that just sends you into a trance and gives a really good flavour of the LP they released shortly after. It's refreshing to listen to tracks that don't feel in a rush to 'get to the good bit'.
Another favourite would be Sam Binary's remix of Dead Man's Chest's Westworld. I love the effort that's gone into this one, SB's completely made the song his own and it's awesome.
My choice from Eusebeia would have to be Charade, released on Literature back in October 2018. It's a bit more liquidy and light hearted than a lot of his other stuff but the sub line still bangs.
Right, I'm in. Now, browsing Western Lore's back catalogue, I don't see anything by Eusebeia. Am I being thick or is there something in the pipeline?
Good spot, there's a vinyl only release arriving on November 15th. Seb has this to say about it:
"…so the two tracks 'Experience Shapes You' and 'Each To Their Own Path' are about how our lives and our experiences shape us and reaffirm who we are. We each have our own path in life and it is important that we honour that and stay true to ourselves, as it can tell us where we came from, where we are now and where we're going."
Anything else?
We've checked with Western Lore and we can announce that Eusebeia's second release for the label will drop in either late 2019 or early 2020. It will be a four track e.p. entitled 'Equal Rights & Justice'.
On the topic of Northern Front, they've made their debut release recently and it ties in nicely with this show.
Yes, it's a series of three collabs between Response and other artists, one of which is with Dead Man's Chest:
You're running this night at The Island, a venue well known to Sonic Nutrition. What's your take on the space?
We chose The Island for this one as we think the tunnel like space is the perfect surrounding for the musical delight Western Lore will bring. We've helped friends put on a few nights there as well, and the crowd the space attracts is always spot on. The venue has also just announced that it's no longer using disposable cups anymore, so we're proud to be supporting a venue that shows some care for the environment.
We've also started working on a few custom production treats; fingers crossed, they'll be ready for the night. It's shaping up to be a good one.
That last comment sounds intriguing, any more to say on that?
We do all our production ourselves, so we're always thinking of how we can make it better. We've got a few ideas in mind, we just need to find the time to make them and keep innovating for each night. So no clues yet, just in case we don't get it done in time.
OK, understood, how about you enlighten us as to where the name comes from?
We spent a while trying to decide our name and eventually settled on Chop Shop. It's literal meaning is a place where stolen cars are taken, dismantled and put back together as a different car. In the same way, a lot of dance music is samples and cuts of other songs reworked into something new.
Er, hold on, is 'custom production treats' a euphemism for stolen car parts?
Now you mention it, that's a great idea…
Right, now, before I end up in a very different kind of shop being quizzed as to why I'm encouraging vehicle theft, I think we should establish your aims with this promotion.
We're really happy to see breakbeat, jungle and rave music make a comeback and be picked up by DJs across many genres. After a few initial discussions we decided that we wanted to showcase the revival sound. We want to create a night with consistent quality in the bookings, production level and sound system so that people know to expect something good. Chop Shop is also a reaction to the growing trend of calling anything with a hype man MC a jungle night. We're keen to take all the egos and hype culture out of it and just let the music speak for itself.
So who are you as a crew?
We're currently a team of four all living in Bristol. George and Alex started uni here last year and got to know each other DJing, a skill they'd both pursued before university, George running small parties in his native Bournemouth and Alex shelling down in his bedroom. Joe moved down from Sheffield (for a new job), where he used to do production for underground nights, so he was keen to carry on doing that in Bristol. Which leaves Connor who's been living in Bristol for 5 years now, DJing all over the place for a whole host of DnB and Jungle nights. George brought us all together and we went forwards from there really.
George and Alex champion the slower paced breakbeat and Connor and Joe are more about the Jungle end of the spectrum. It really helps us get a good flow through the night having a collectively really wide bpm knowledge.
So that's three DJs and a definite sound that you have in mind. Could you pick a few tunes that illustrate the night?

George: Mines gotta be hackney parrot, it's the first song that got me into the rave scene. My favourite version of it is the Special Request VIP but I heard the original first on Vice's documentary about illegal raves.
Alex: This one takes it for me, has that old school rave feel about it, with a clanger of a drop!
Joe: Connor's not about at the moment so I guess I'll get to choose one instead. For me it would have to be Pure Thought by Kid Lib. Gotta represent the Sheffield sound, it's important to me just because the scene there gave me so much and I was part of it at a pretty special time in both its development and my own.
You've mentioned that this is your second show. How did the first one go?
Our first night was at Loco Klub at the end of August with Borai, Murder Most Foul and Disaffected. Needless to say, we'd put a lot of effort into it, getting in touch with MMF was a slog in itself since he's seemingly absent from social media. The day before we had only sold 6 tickets for a 200 capacity venue, so we were kind of bricking it. Not least because we knew at least 12 of our friends were meant to be coming. We thought, worst case, it would feel like a private party with a weighty sound system, lasers and sick lighting. On the night we had over 120 people through the door, so we were chuffed.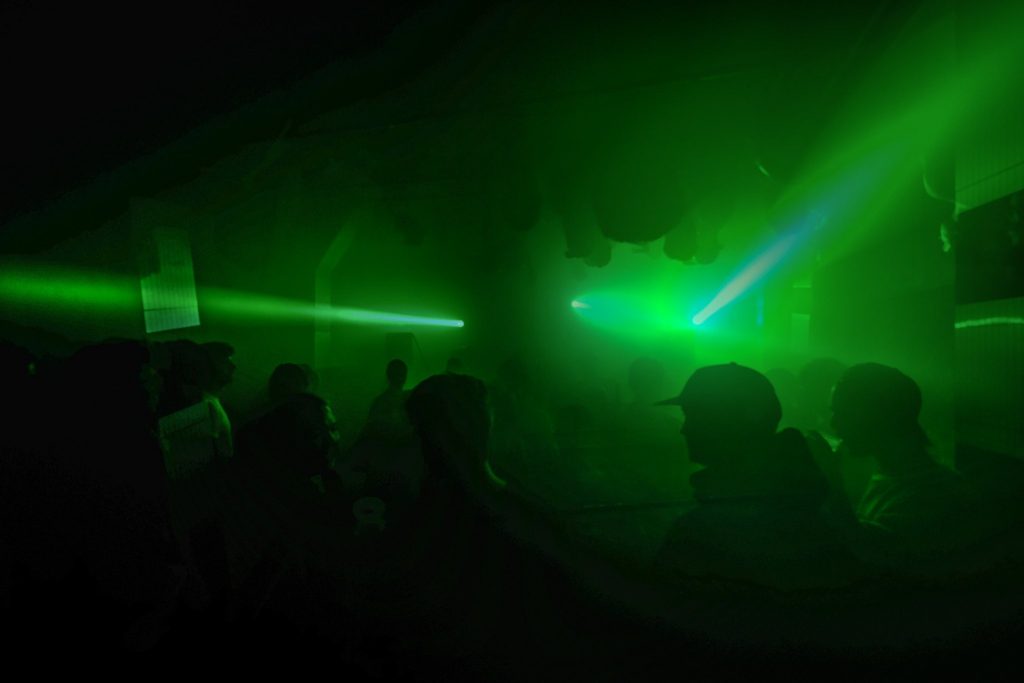 That would be just right to start a party at The Island. Any other challenges or remarkable moments?
Dealing with artists through agents was new to us. We were expecting Borai to be too cool for school, but he rocked up excited like a kid in a candy shop. He was having so much fun we could barely get him off the decks (he ended up playing 35 minutes more than originally planned).
Good atmosphere then. Good crowd too?
Yeah the crowd were amazing, so many faces we didn't recognise, so word spread somehow. We found a small party happening behind a curtain, someone found a disco ball and started their own dance with a phone torch. It just shows how much effort you can put into the production and people will always find another more random way to enjoy it. But, they're the bits you remember and add character to any night.
Wrapping up, any shout outs you want to make?
Definitely a shout out to Alex who did the photography at our last event, we thought the pictures were spot on. You can see more of his stuff at @alxmcdowxll on Instagram. Shout out to our mates who drove a collective 1000 miles to make it to the first event. And shout out to the crowd for being themselves.
There you have it, dedicated Chop Shoppers travel the length of Britain to make the event and I, for one, am looking forward to meeting them there. In the unlikely event that you have a reasonable excuse for not making this one, keep an eye on the Chop Shop Facebook and Instagram for details of future parties.