At the end of last year I attended one of the most exceptional club nights I have ever come across, Noise Test. Having been alerted to the latest instalment of the series, I duly contacted the event's promoter, Medika, for the following interview.
When and where is the next Noise test and who is on the bill?
The next Noise Test event is this Saturday Easter bank holiday in an old police station – a club called The Island in Bristol city centre. There will be a selection of artists associated with the UVB-76 label: Pessimist, Vega, Clarity, Outer Heaven, Karim Maas, Holsten, DB1 and myself. We've also got Stave flying in from Chicago!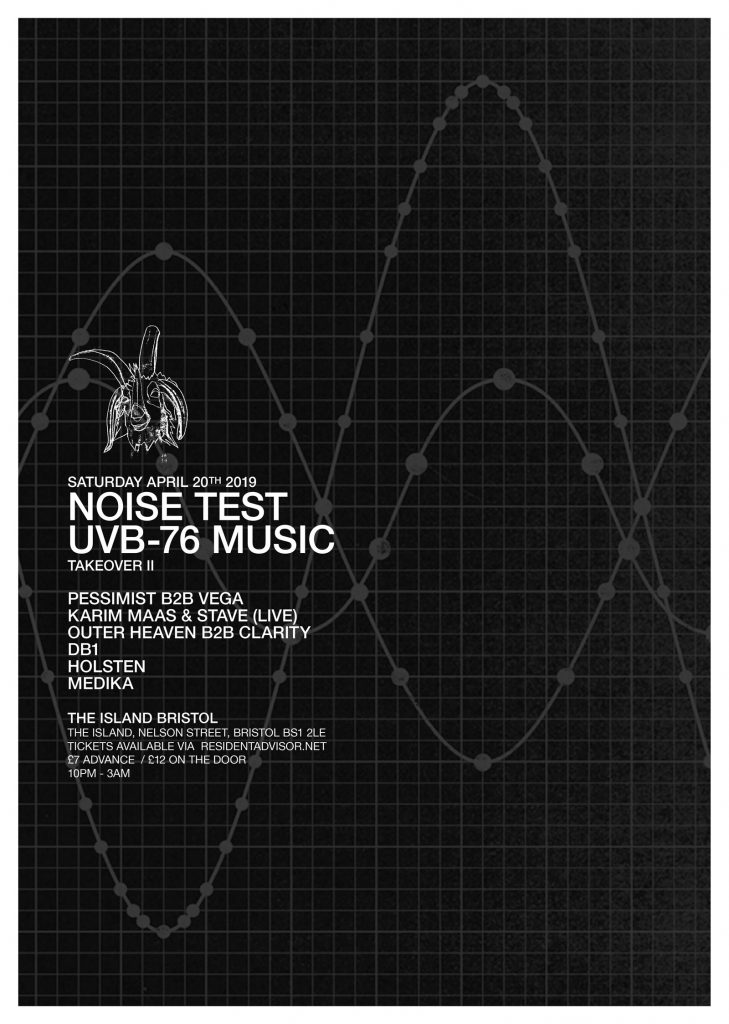 For readers who are unfamiliar with UVB-76, could you give a brief overview of the label and some of the artists?
It's one of the best labels out there, period. Always pushing forward, staying interesting, from dark ambient to floor fillers, always a moody edge. They're a great team of lads, really talented. It was started by Vega who is 1/3 of Ruffhouse and Gremlinz. Pessimist and Karim Maas, the other Ruffhouse members also have their own separate thing going on. Throw in a bit of Clarity, Outer Heaven in there, they truly are a force to be reckoned with. Not to mention Overlook who's had numerous releases and an incredible LP on the label. Loxy, Skitty, to name a few have also appeared. It's literally a 'super don hive.'
That's quite a recommendation, can you whittle their output down to a favourite track?
Noise Test sets have a very distinctive feature. Could you enlighten readers as to what it is?
Noise Test is a concept night where you have to play all your own tunes that you've made, and haven't released. It's a testing ground for beats – so the crowd, the speakers, it's proven to be very popular and mostly very useful for producers, adding some pressure into the mix, but everyone always smashes it, it's incredible to watch. We do love our halftime, moody, dnb vibes, but we've had people like Throwing Snow and Stagga down, so never strict – and all these sets are recorded and uploaded to a magical place which is our unlimited Noise Test soundcloud account, check it out. We regularly upload 6 hour recordings of the whole night so you don't know who's played what, but also have started to split them up now too and people getting their shit signed so quick haha, lots of labels listening to the recordings I think which is wkd. It's what it's about – giving light to those unfinished, forgotten gems, that maybe never quite fit anywhere – this is the overlooked raw material sometimes which really pushes boundaries.
Now, amongst those uploads to that magical place, is there any one that you recommend in particular?
The Untouchables is a highlight – and a few we can't release like the Rhytual and Homemade Weapons recordings, but one can dream. Private 4eva.
You're also quite handy with visual presentations. Is there one for this event?
Yes, I studied experimental film for a long time, got my masters in Video too and always fucked about with audio-visual aspect – or, in simple terms, the syncing of the 2.
This is your first time at The Island. Is there any specific reason for this choice of venue?
Our previous venue, Blue Mountain, shut down and we were looking a for a venue – The Island was perfect. Especially for the first one with UVB-76 because they love their moody Techno vibes, so it will be a great start.
Noise Test has recently acquired a younger sibling, would you care to give us a few details?
haha, yeah Blood Test – almost goes back to when Noise Test first veered off from the original Noise night – just us lot being weird, open decks, b2b's… we've met some wkd people in Bristol in our 3 years here and wanna give everyone a platform – so much talent sitting around.
Looking through the archives of Bristol 24/7, I've come across this interview where you offer Noise Test as an alternative to the "dry, repetitive, uncreative vibes out there". What is your view as to the state of drum 'n' bass in 2019? Do you think matters have improved on this front?
There's some improvement for sure but repetitive snares are still there just eating you alive sometimes. I personally love the off beat and weird, so I naturally book artists that go down the beaten side track or whatever the phrase is, ha. There's a lot of different tribes in DnB now, I'm interested in the cream of the crop.
Do performers at Noise Test panic or celebrate at the thought of demoing previously unreleased material?
People absolutely love it. They're buzzing with excitement and they get a lot out of it – mainly finished tunes! It's a good boost.
Not every reader will be able to make it for this one. What are the best online locations for those who wish to follow your endeavours?
Facebook and Soundcloud. We have no insta, and not even a logo as a matter of fact, haha. Not really sure how this night has lasted 13 years – it's run by DJs and producers and I think people feel that.
Any for those readers that do follow Noise Test, what should they look out for in the near future?
We've been asked to curate the Membrain Festival in Croatia this August – so check the link and get your arses over there! Samurai and Cylon nights coming up later in the year too. 🙂
So that's us all told then! Get yourselves to Bristol on Easter Saturday and then on Croatia for August. I'll finish up with this photo of the lady herself, so that you know who you're talking to if you meet her. 😉