I like to think of myself as a cosmopolitan sort of fellow and, as such, I've taken pains to feature content on this blog with connections exotic locations such as Limerick, Helsinki and Derbyshire. Continuing in this vein, I was delighted to discover Mettāsonic, a label currently operating out of Taiwan, have a new compilation in the offing. I caught up with Jesse Warren (a.k.a. DJ Quest) to find out more.
Tell us about this album you are releasing…
This is our 3rd album to celebrate our 3rd anniversary. As a label, we are mostly focused on a soulful strain of jungle but keep it rooted with a local compilation every year or so. There's a wide variety of styles, but the common theme is drum & bass. As per tradition it'll be a free download upon release on the summer solstice (March 20th), followed by a USB edition later in June with 6 bonus tracks from South China.
By local, I take it you mean that the artists on the compilation are all Asian. That's a big geographical area, can you give us more of a breakdown of these artists.
Not all Asian but definitely "Bassed in Asia" – that was the title of our first compilation, ha. Roughly half are locals and half expats.
Originally it was focused on local artists that I knew in the South China area. But then you become aware of other artists in the wider region and start to cross pollinate. Some of them are quite active in their scenes, and others are quiet bedroom producers.
It's a good mix that provides what I do believe is a "snapshot of drum & bass across Asia". Of course other snapshots could look different.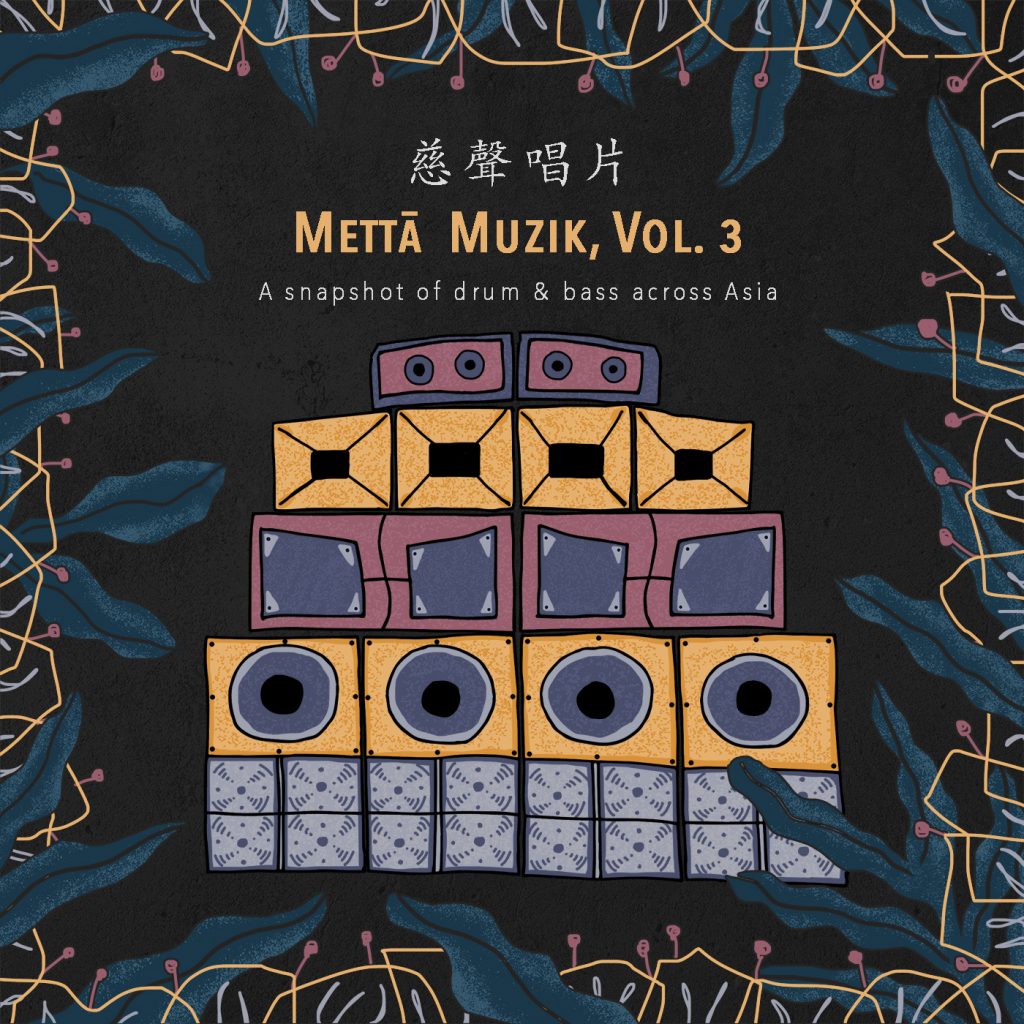 And by expats, you mean what I would understand as Western immigrants to Asia?
I think you could say that. I'm not 100% clear on the semantics, but I believe an expat is defined as someone living outside of their home country, while an immigrant is someone who has moved permanently (according to Google/Oxford haha). There's a lot of coming and going among the foreign population in Asia.
The album covers a lot of different styles. Are there any tracks that you'd especially highlight for Sonic Nutrition readers?
I appreciate everyone on the album. I've always been a big champ of Kray, whose production is just on a very high level. He's a humble kid from Hong Kong. Now he's moving to London and hoping to get involved!
Other than that it's gotta be Sushi Robot – Hong Kong legends known for their live drum & bass. All of their songs with us were born out of previous live sets!. There might be an album in the works as well 😉 Finally I'm really keen on the mid-2000s style liquid banger from Singapore's Altered Statesmen.
To my knowledge they have never released before. So yeah those are my picks of the album.
Much DnB references pre-existing genres, especially reggae and soul, via the sampler. Do any of the artists you work with incorporate Asian influences into their sound?
Almost none of them. I'm more of a traditionalist in my approach to drum & bass, and I think most of the artists are too, with their own specific taste or style of course. That being said we do get some local flavors from artists like SPYFI who includes Chinese poetry in his songs. It's funny you mention reggae and soul because those are two of my biggest influences. We haven't themed any compilations yet, but we will in the future.
Update: I have to edit this response because we just received a final song from Taipei which both sounds like and is named after a Buddhist Sutra. KITrust is the ringleader of a live bass music band over here and really came through with this one!
You're originally from Virginia, can you give us an idea of how you've ended up living in Asia?
In college, I came across an opportunity to study abroad in Hong Kong and jumped on it! Then after graduation a job presented itself in Shenzhen across the border. My music life really took off there, and I ran a monthly DNB night for about 10 years. Taiwan was always beckoning and I finally made the move over here and have not been disappointed. I just spent a 1 year diversion in the states where I really dove into the warehouse party scene of LA. You couldn't imagine how big jungle and DNB are over there. But yeah, living and surfing it up on the remote east coast of Taiwan now!
More to the point (of this blog), how did your interest in Drum 'n' Bass come about?
Spring 2001, I was on a roadtrip with some friends at a music festival. We were all in the tent and I couldn't sleep. My friend was playing the Earth Vol. 1 CD, and it left a strong impression. We tried to go see Bukem several times after this and he was always a no-show, lol. But when we finally saw him at 9:30 Club in DC it was a magical night. I was a casual listener until 2008 when I decided that, because there was no drum & bass in my city (Shenzhen), to start a night.
And this interest has flowered over your time in Asia…
Promoting parties in China was a fun journey. I've done everything you could imagine. Clubs on occasion but mostly finding my own venues and making my own events. Rooftops, warehouse, beaches, bookstores, coffeeshops, you name it. A nice side effect of this is that I've gotten quite good at rigging a soundsystem.
Shenzhen is a city of immigrants and young people looking to have fun, so it was about the party equally as much as the music. Looking back I could have been a lot more consistent and "market-friendly", but I enjoy creating and executing specific concepts, and too many styles of music to stick with just one thing.
Ah, so what has been your most memorable party?
Wow, tough question. Probably the last beach party before I left – it was everything you could ask for. Beach parties were always a special part of living in Shenzhen. People show more skin and let loose at the beach. In later years it was all about reggae. We'd rig up my sound system with components from other friends and crews, so the sound was always banging. And there's always room for a bit of jungle and ragga dnb at these events!
Another one was having Arkaik down from Shanghai – I threw a small music festival which bombed due to freezing weather and torrential rain. But the afterparty in a grungy smokey basement bar made up for it. He played his stripped down version of dnb and it went off.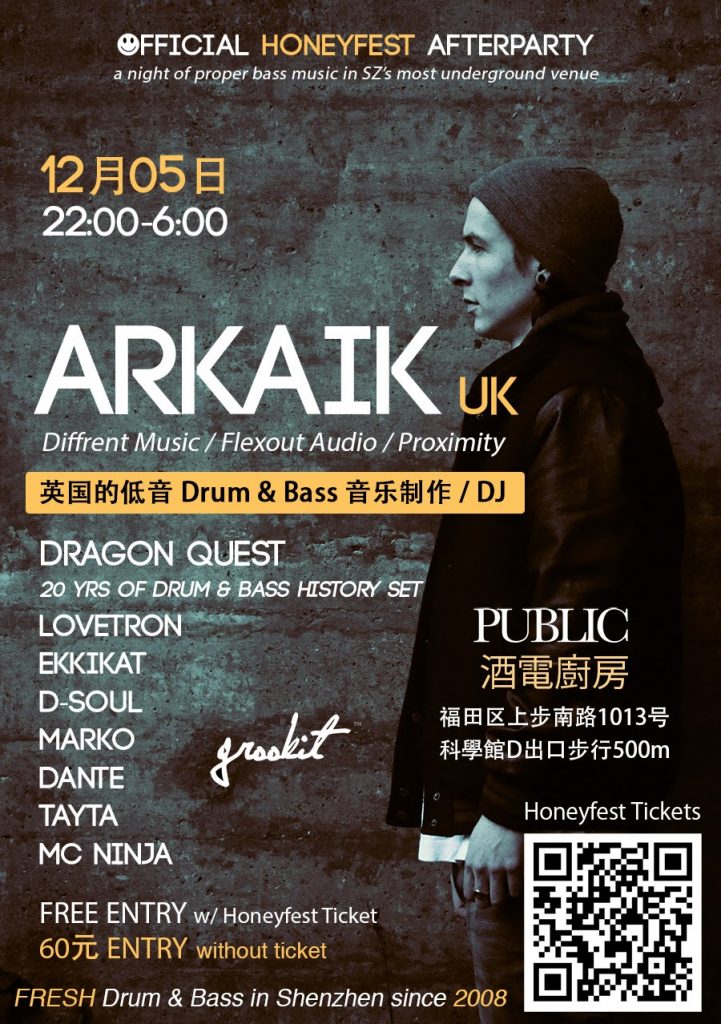 So these experiences led to the label.
Yeah, over the years I realized that a lot of people I knew were making music, but not necessarily releasing it. Tayta showed me about 15 unfinished beats in 2015. So I wanted to bring all that to light. Aside from the local artists, I reached out to some of my favorite junglists and thankfully they were down!
We have attracted a few more in this vein, so I think a "Mettāsonic" sound is definitely taking shape. Another big spark was seeing GZUG in nearby Guangzhou. Simon was putting out good music, locally as well, and was helpful as I was setting my label up. Nowadays, I'm really excited about the non-profit direction of the label and how that develops.
You've run a dnb night in Shenzhen and I note that city's proximity to Hong Kong. Does HK's British connections increase the viability of running a dnb night in this region of China?
The British connection definitely helps Hong Kong but not necessarily Shenzhen. I didn't notice much crossover between HK and SZ crowds. That being said, the bookings in HK by crews like Magnetic Soul, Heavy, Bass Music China, etc. certainly exposed some Shenzhen punters to different sounds and gave us inspiration. Nowadays I think the tables have turned and the market is definitely stronger in Shenzhen.
Or is there more of a dnb scene in China than I imagine?
I don't live there anymore but you've always had international headliners in Shanghai and Beijing, and Shenzhen also as of late. The music market has grown immensely in the past few years so it's a very potent time. You can see more producers coming out of the woodwork as well. Some of the stronger names right now IMO include Kray, Radiax, and gyrofield. What's also cool is that you have regional labels such as Java Bass in Jarkarta who have been releasing drum & bass for over a decade, which I had no idea until recently.
And bringing it back to Taiwan, have you any plans to run promotions in the near future?
After several years hiatus, I'm launching my first club night here in early April! Really excited as I've invited the "godfather of dance music" in Taiwan down for the opening gig. DJ @llen has been active here since the early 90s. We've got a sick little basement bar and I've heard from other DJs that DNB doesn't work in the city (Kaohsiung) but I'm really excited to give it a go! We'll also do house/techno and livesets as I'm really into that stuff as well.
OK, to finish up, the now traditional shout outs/big ups…
Firstly all the artists who have contributed music and shaped the sound of Mettāsonic: Rainforest, Tim Reaper, Necrotype, Kray, David Louis, Illuvia, maidable, and of course all the Metta Muzik compilation crew. Everyone has been super cool and easy to work with. My partner Lexi for creating a beautiful mettāverse (artistically), holding down the fort in China, and putting up with me. Finally and most importantly all the listeners & supporters worldwide, and everyone else flying the flag of jungle and drum & bass with love!
Keep up with all things Mettāsonic at Facebook, SoundCloud, bandcamp and Instagram.