I was relaxing with the sound of Double O's show on Rinse FM recently when, suddenly, the man himself announced Subculture, a brand new jungle night in Coventry. Knowing the insatiable appetite of the Sonic Nutrition readership for a good soirée, I caught up with resident DJ Louis Morton (a.k.a. Problem Child) to find out more.
When is the first Subculture and who is on the bill?
The first Subculture night will be on the 8th of June 2019 at the Empire night club in Coventry. Note that it will be held in the smaller room upstairs to give it a more intimate vibe.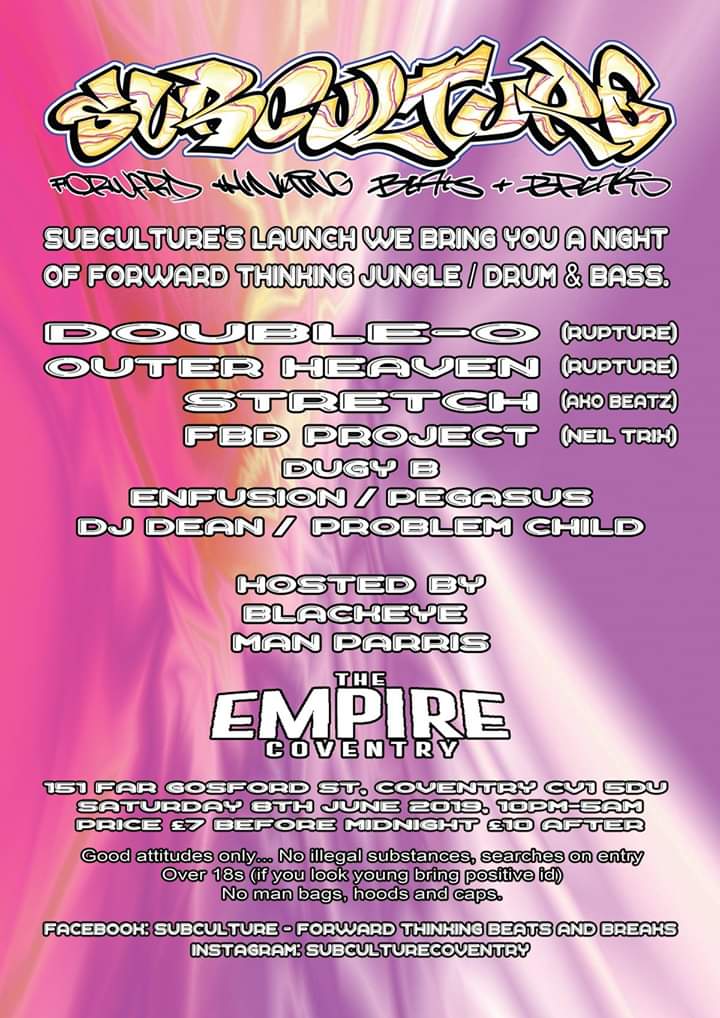 That's a solid lineup by my estimation. Could you say a bit more about the headliners, for readers who are unfamiliar with them?
Yeah, well, I booked the headliners based on what styles they play and ability to please. Double O has been making and DJing jungle/dnb since the early 90s and had a wicked ep on Formation Records released in 94. Not to mention being one half of Rupture London and making and playing sick Jungle DNB today… Love the Rupture events and also the radio shows on jungletrain.net and inspired by what them lot do, so he was my first choice.
I absolutely love DJ Stretch's AKO Beatz label, there's so much good music coming out on it consistently. Stretch is also a sick DJ and plays wicked vinyl sets with loads of VIP's and unreleased gems. He, like all the rest playing on the night, will be bringing in something unique to the club which will be making everone happy…
FBD Project aka Neil Trix is bad man… Knows exactly what to play and knows exactly how to deliver. He mixes new with old and isn't afraid to play a selection that is outside the box. As well as being one of the most forward thinking producers back in the day he is also a sick DJ.
Finally, Outer Heaven has been killing it with the production for a few years now with releases on Western Lore as well as Rupture. Being another local Coventry guy, I felt like getting him on board as he plays and produces the kind of music I like.
I can't miss out the others too, like Dugy B, Enfusion, Pegasus and DJ Dean, as they all know the crack.
Any particular reason for the name Subculture?
Coventry is the UK City of Culture 2021, so I kind of incorporated the culture name…
The city has made a particular contribution to culture which I know you're rather proud of. Would you care to enlighten readers?
Coventry's history includes The Eclipse and The Edge back in the early 90's. Clubs which paved the way for hardcore junglism/dnb.
So what has inspired you to start Subculture?
Well, Subculture grew out of there being next to no dnb nights that cater for myself or like minded people. There are dnb nights in cov just nothing that makes me want to go out anymore. I am a massive lover of jungle/dnb, but with nothing around here to go to…
And then what happened?
I got introduced to Rupture, London when a friend told me to go to their event and I was not disappointed. I was sort of blanking new dnb at this point as I had always loved oldskool jungle/hardcore which Rupture's room 2 catered for.
Aha, like myself, someone's who's had an inspirational experience at Rupture. The thing is, Rupture isn't just about nostalgia, is it?
No, not at all, I ventured in the main room at rupture and it blew me away. Everything I've always wanted in new jungle/dnb was there. It had breaks and forward thinking concepts in music which I so wanted to hear in dnb. So, I ended up buying new jungle vinyl again and became more hooked than ever before and found a renewed love for dnb again.
Ok, so you get back to the Midlands after a trip to the capital, then what?
Well, as I've said, my neck of the woods was dry. I went to a couple of Skutta nights in the next closest city, Birmingham, which was wicked but they were too far and few between. I was DJing on jungletrain.net but not DJing out.
Anyway, I got bored and creative and decided to start up a night that will get a scene started in Coventry. Subculture will cater for forward thinking jungle/dnb as well as being a venue for myself and my friends to play out too.
You've mentioned your jungletrain show, which would be the best way for readers to find out what you mean by 'forward thinking jungle/dnb'. Could you direct us to a recent recording?
You can also download it from mediafire here.
Njoi 🙂
We've covered Subculture's past; now, what can we expect from you in coming months?
Plans for the future are an oldskool special event and to take it from there and expand… I work hard and want to share this side of dnb in the Midlands.
You're also a producer, will you be dropping any of your own tracks on the night?
I was involved in a couple of releases on Silent Force Records with my mate Stu Birch a.k.a. Redshift, who is a wicked producer. I might throw a cheeky few in there, lol.
Finally, who should we be looking out for from Coventry as well as the Midlands in general?
Errrm, there's loads, the Skutta guys have a wicked label and put some good nights on in Brum. As mentioned before, Outer Heaven, Enfusion & Pegasus have some wicked releases out now too. DJ Dean, underrated but one of the best DJs I've ever heard (and I've heard a few lol). Also from the Midlands is Headgear and Taylor from Brum. There are loads round here and sorry if I missed anyone.
If you can't make it to Subculture's first party, instead look out for future events on Facebook and Instagram.