On a recent trip to London, I made my way to Peckham to investigate one.seventy, an event known for championing drum & bass's more experimental flavours. While there, I had a long chat with promoters Alex Foy and Rob Vanden about upcoming events and their fledgling label.
Let's start with the details of your next gig:
RV: On February the 2nd, we're finishing our 6 month residency with a bang; a lineup that's guaranteed to get people moving.
The Vision Reels is a new project by an artist that has been on many One.Seventy lineups and is part of the family. We're massive fans of everything this individual does – The Vision Reels sees him focus on ambience and melody.
Eusebeia joins us for the first time and is someone with a very diverse sound palette, spanning much of what we represent as one.seventy.
Artilect is an artist that combines deeper sounds with a lot of breakbeats and does so very well. Whilst you may not always find too many breakbeats at one.seventy, we love them and we know our crowd does too.
Escher rolls through one.seventy for the second time, bringing his signature sounds that has put him in such high regard across the scene.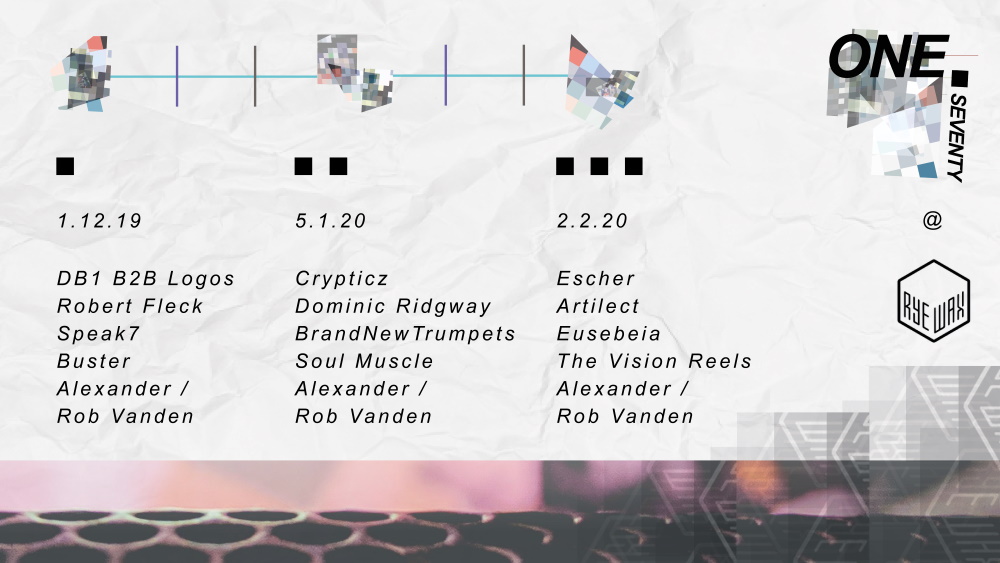 I'm led to believe that a one.seventy event typically has some theme that binds the performers together. Is there one in this case?
RV: Sometimes the links are not quite so obvious at face value – it could be that everyone on the lineup are friends. Often, the lineup is dominated by a certain label and associated artists. In this case, everyone has a certain grit to their sound and the lineup is simply artists that we feel make sense together.
I know from your interview with Resonant Frequency, that one.seventy has a particular feel. Can you outline it for the readers?
RV: Our events are not always strictly focussed around the dance floor like you'd expect at a drum & bass event. It's a social occasion for many. People come down to chat to other artists and like-minded people over a 2-for-1 espresso martini.
On occasion, certain artists will captivate the audience with their live setups to the point everyone just gets up and surrounds the table to watch as intently as they listen.
And I also understand that the Rye Wax space itself is central to that experience…
RV: Rye Wax itself is a really malleable space; it can mimic someone's living room as easily as it can a dark basement club. It's easy to match the space to the sounds on any given night, which – despite being a niche within a niche – can be really varied.
The venue themselves are also really easy and always on hand to help. We like everyone that's working there.
OK, so what is the night's history? How have you got to this point?
AF: One.Seventy was launched 3 years ago as a quarterly Sunday party. The initial concept came about because me and Rob had identified that there was no focal 'coming together' or meeting point for the scene that we were both involved with. We have tried to build One.Seventy from the ground up with the community around us.
Having previously put on events for Detuned Transmissions, a label that I'm involved in, and before that for the now defunct Organic brand, I knew that we would be able to get people on board on a really scene focused, artist led event. The first event took place on the 23rd October 2016 and we ran as a quarterly event until September 2019. We're now monthly for a 6 month series.
The upcoming show is the last in this monthly series. How have you found this change in pace? Has it been a success?
RV: Going monthly has been great for a more consistent brand presence – we've been guilty in the past of going dark for a month or so between the quarterly events. We're always looking to do things differently, always wondering what's next and this is just the latest manifestation of that.
And looking beyond February any plans for the next one.seventy event?
RV: In recent times, Drum & Bass as a whole has been getting heavier again (this could easily just be my own warped view as a result of my changes in taste). There's a lot of people making deep 170 that has just as much right to the dance floor as anything else.
Our original mission statement for one.seventy was to provide a platform for artists that either don't get a look in from promoters because their music isn't geared towards the floor or to allow artists to dig deeper than they otherwise would. 3 or so years down the line, we believe there's a need for the same to be done on the dancefloor now
We believe we can put on Friday/Saturday parties that are different from others, continuing to book the artists that we do. Sunday's will continue, but do expect the odd all-nighter.
We've said quite a bit about your guests and the venue. I think it's only fair that you take a bit of the limelight yourselves.
AF: We've done the rounds on radio etc with the brand, probably most notably with a monthly show on Balamii Radio which we did for about 18 months. We both play out and about fairly regularly, most recently at Clashmouth in London, Epi-Fied in Bristol, and we hosted a room at DAFx 2019 Conference in Birmingham as one.seventy.
And your plans now extend beyond gigs as well…
AF: We are also running One.Seventy as a label now. So far we have released the Various Artists album 'Permissions' and will be following with a series of artists Eps which are currently in the works.
For the events and the label we have a 'What now?' attitude, as in we are vastly more interested in innovation and new ideas than having any kind of debt to the genre's past. We are interested in different takes on the form and where it goes next. Ironically on a personal level we are both deeply into the history of the genre, but we recognise that you don't go forward by looking back endlessly.
But even with the album, you've still tied it back to your sense of place with Rye Wax.
AF: Yeah that's right, Rye Wax is intrinsically linked to the events, it is essentially part of it and that needed to be expressed in the artwork. RQ designed the album artwork for us and part of the material we gave him to work from was and image of Rye Wax's concrete floor which is where the texture in the art is derived from. RQ worked his magic putting it through some very RQ filters and effects to create what you see. It's quite a literal expression of how we feel about the space, we are really happy with it.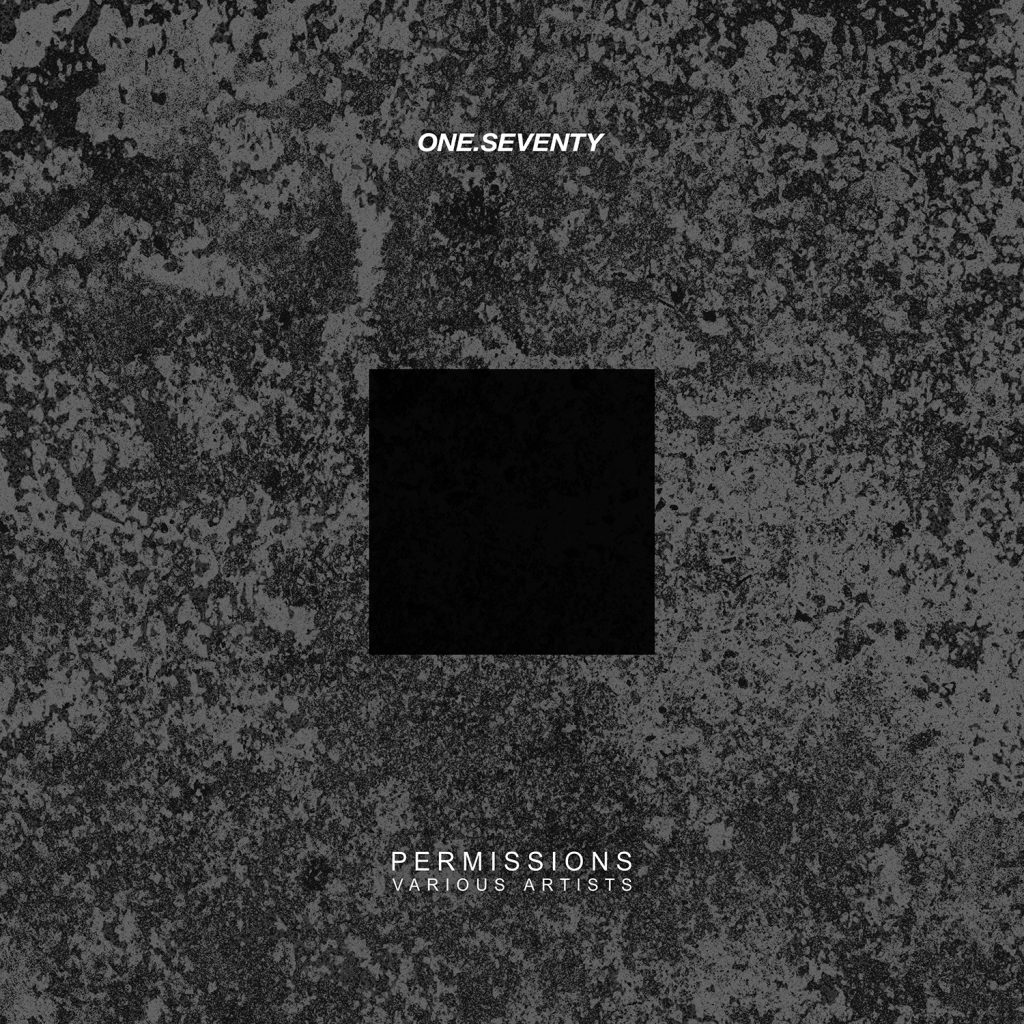 And any hints as to who will appear on those e.p.s?
AF: Anyone who is familiar with the events might be able to read between the lines regarding who is up next for the label. The focus is on the core artists associated with the brand and a few collaborations. The thing with the way music is consumed these days is that you shoot yourself in the foot a bit if you announce things before they're ready to go public, so we're remaining slightly tight lipped on this one.
OK, having had my first experience of one.seventy recently I need to clarify something important. What's the best dish on the menu of the Kurdish place just across the road from the Bussey building?
AF: Ah mate… I'm pretty much dead set on the falafel wrap. Nice and filling, but you don't feel bloated afterwards. Definitely a good option mid event, it's a long old day for us as we are at the venue from around 3pm for sound check etc, so need little breaks.
RV: I'm not actually totally sure which place this is! Perhaps it's new? Rye Wax do tend to have the kitchen open on Sundays, however I believe their current pop up kitchen stopped showing up I think (we probably don't want to say that). Overall, the food in Peckham is amazing and there's so much choice. It's easy to grab a bite before one.seventy; you're spoilt for choice in Peckham Levels (begins Peckhamplex), Blenheim Grove directly opposite Bussey gives you the choice of pizza, pork buns, burgers, Italian, finer dining and Mexican. That's just within a 50m walk of the Bussey tunnel – venture a little further down Rye lane and there's plenty more to find.
Now that we've got that sorted out, I'll leave it to you to close out the interview with the traditional shout out.
AF: Shout out to everyone who comes down to events and creates the vibe. It always has been and will continue to be about the people, they ARE the event. That simple.
Keep tabs on all things one.seventy at their Facebook page.