With three upcoming releases, Subtle Audio's Conor O'Dwyer (a.k.a. Code) has plenty to talk about in this interview. As if that wasn't enough he also offers a survey of the Subtle Audio back catalogue and more.
Subtle Audio has an upcoming new release. Would you care to tell us about it?
Yes, that's right – it's a new vinyl release from a Welsh artist called Kyam. We previously released something by him on the 'Decade In Breakbeat' CD a few years back but this will be his debut solo release on the label. The A-side 'Sigh' actually features some of Kyam's guitar playing and it's something a bit different for us with the beats being a bit more tech-y than what people might associate with Subtle Audio, but we do like to surprise the listeners now and again!
The other 2 tracks are more breakbeat orientated – Fernweh's got a very lively bassline, there's a good dancefloor feel to it – really like it. The last track 'Trinket' is probably more what people would expect from us with plenty of drum acrobatics and a melancholic vibe to it. Very happy with the release overall – it's always important that the tracks are varied but yet work well together and I think Kyam's done that brilliantly on this release!
Pre-orders available here.
Kyam releases via his own label, Unbidden Audio. I'm wondering if you find it easier to work with artists that have experience of self releasing.
It does help a bit as they are more aware of the difficulties involved in getting a release together and promoting it. A lot of the artists that self-release their material are generally doing it on digital formats and I find they are generally very appreciative of the chance of getting their music onto vinyl, which obviously makes them easy to work with – they can live with the long delays for example!
The Kyam track is not the only release you're involved in at present, is it?
Have a few other projects on the go at the moment, yes. There's a joint vinyl release between Subtle Audio and Dissident's Opposide label due around the same time as the Kyam 12". We've always been big fans of Dissident's work and Opposide is very much a label on the same wavelength as Subtle Audio, so it was a collaboration waiting to happen really.

The other release in the works is on our Bustle Beats sub-label. There'll be a track from the legendary Irish DJ / Producer Naphta on one side and a long, long, unreleased track from Dub One on the flip. Aside from the vinyl bits, there are 2 brand new digital only releases by Drummotive and Scale ready to go live on Bandcamp any day now.
Any particular reason for the Halloween date on the Opposide collaboration?
Yes, definitely wanted to do it at Halloween! You only need to listen to the music to hear why 😉
Dissident's tune "Universe Eat Universe" has a really eerie, spooky vibe – and if you check the video for it, you'll see it has quite an other-worldly, creepy vibe to it.
The flip side is something by myself that was previously released on an Opposide CD 'Double Your Displeasure' – again it's got a dark vibe to it and builds up to a drop that features a sample from the 'Nightmare on Elm' soundtrack. So, yeah, it had to be released at Halloween!
Pre-orders for this one are here.
In that case, which of the following would you prefer to spend undead eternity as (a) blood drinking Vampire (b) flesh eating Zombie or (c) Skeleton warrior, and why?
Really not into blood or flesh unless it's cooked. Though I guess as time goes on, there could well be microwaveable "ready-meals" for Vampires and Zombies ? Even then, I'm not sure I'd be into that – so I'll go Skeleton Warrior (as long as I don't have to wear Skeletor's shawl or skimpy pants!)
With the joint release, what do the two parties bring to the table?
Well, for this particular release, as it was my idea, I'm mainly doing the work on it. Organising the mastering, test presses, artwork and sales / distribution. Opposide don't do too many vinyl releases, so I was better placed in this situation to sell and distribute the vinyl as Subtle Audio has always been a vinyl based label (though we do digital too).
I understand that your significant other draws the comic that features on Bustle Beats's covers. Does she also conceive the story?
I guess you'd say partner 🙂 We've been happily unmarried a long time now! We have 3 daughters (the latest just born 2 weeks ago!). So yes, Louisa does all the Bustle Beats artwork and some of the artwork on Subtle Audio too. She'll probably be doing even more work on the Subtle Audio art from now on after the sad passing of Conor O'Riordan (aka Stacks) last year. RIP.
The Bustle Beats story was originally my concept but Louisa has certainly given the whole thing life with her drawings and she does add her own 'extras' to the scripts here n there ! It's a collaborative effort for sure. Usually, I'll draw up a quick (badly drawn) sketch with a rough guide to how the dialogue will go and then she'll work on it and we'll review it together and fine-tune it / argue about it till we're both happy 🙂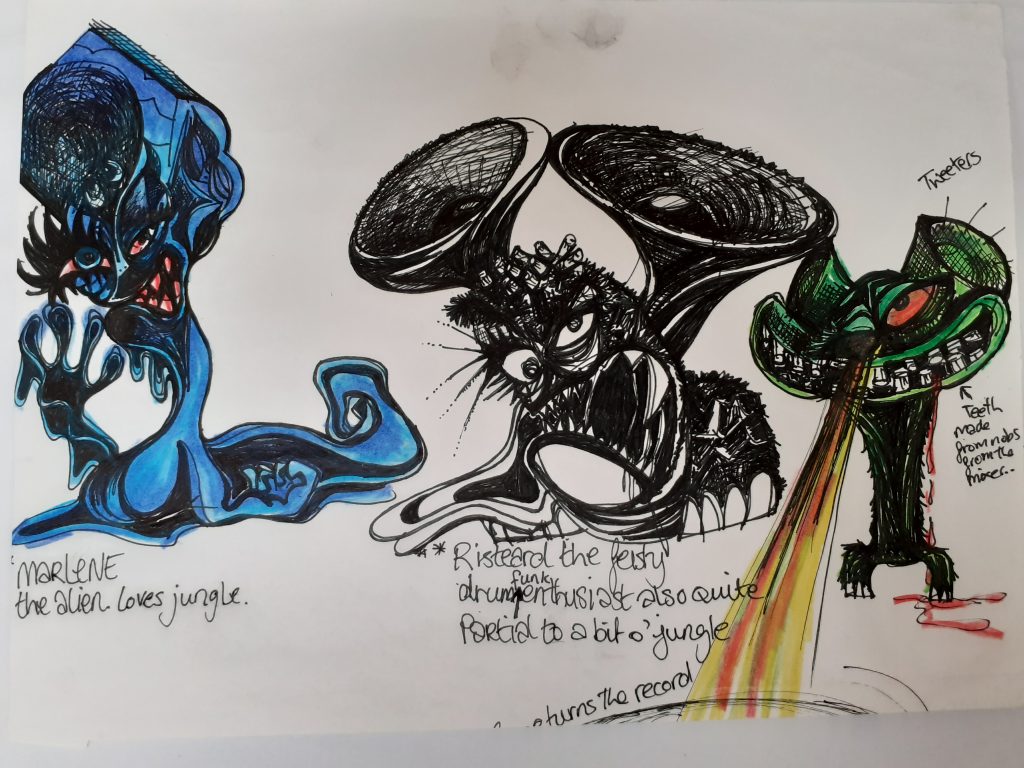 The first 5 10" releases documented the banning of all D&B / Jungle music from planet earth and the subsequent hook-up between earth's junglists with some Jungle loving aliens from a far away world who help them to defeat the enemies of Jungle! Each release features a large portrait of the artists involved on that particular release (but fitted into the cartoon strip). I guess being a fan of jungle since the early days, I'm still very inspired by the artwork I saw in the early days – the art of people like Dave Nodz (Suburban Base) and other stuff from that time. With the music style of Bustle Beats being slightly more oldskool orientated than Subtle Audio it made sense to use the cartoon strip to give the label it's own identity.
That's one sub-label, but you have another, Treaty Treats. What distinguishes it from Subtle Audio?
Treaty Treats is a new side project I kicked off recently to release music made by producers from Limerick (where I'm based). There's a good friend of mine based here called K3Bee who's a very prolific producer – he's got better and better over the years and has a lot of material that needs releasing. Also, I've been getting closer to a point where I'm happy with my own production too and thought the label would be a good way to get some of our work released while doing something positive for our city.
We both grew up here while there was a lot of negative talk in the media about Limerick and though the city has had it's problems over the years, there are a lot of positive things happening here. The label gives us a chance to showcase our town as a home for electronic music and jungle as it always has been over the years and (as you may have seen on the first release) it gives us a chance to document some of the history and stories from the local scene.
The name Treaty Treats is a particular reference to Limerick, isn't it?
Yes, Limerick is known as the Treaty City – going back to a famous battle that was fought here in the 17th century. As I mentioned, while growing up here I always felt the media coverage of our town was quite negative, and so, I like the idea of 'treats' coming from our city, as opposed to the latest report of a crime or something else like that. I've always thought there were lots of positive things happening in Limerick but they didn't always get the attention that they should have got. Maybe it just means we need to shout louder about the good stuff – and that's what we're trying to do with Treaty Treats. Thankfully, I do think perceptions have changed in the last few years 😉
So, Limerick, drum 'n' bass hotbed, do elaborate…
For a town of its size, I do think Limerick has punched above its weight over the years in terms of having consistent D&B / Jungle nights. Going right back as far as the mid to late nineties there was a love for the style here. I remember DJ Hype playing in Costello's back in 1998 for example and there were plenty of local Dj's playing the music around that time too.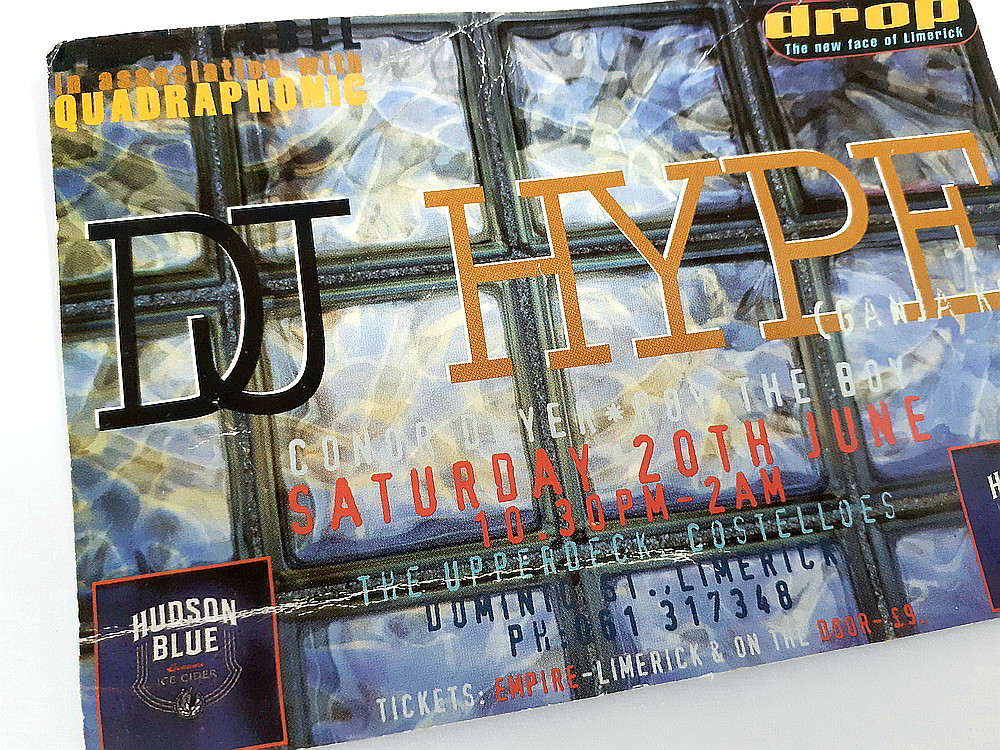 Myself, K3Bee and Roller T all started out playing at a multi-genre night called Skint in 1997 and after a few years we branched out and started our own D&B event called 'Nu Killa Beats'. We collaborated with the well-known Dublin based Bassbin collective to bring DJ Fierce (Virus / Prototype) to Limerick in December '99. After the success of that gig, we were encouraged to start a regular night in a bar the following February and the night went on to run for 10 years.
Besides the extended local crew of Deep Cut, Cain, Lymer, Hiteck and the Evil Grin the list of international guests over the 10 years included : Paradox, ASC, Equinox, Senses, Chris Inperspective, Breakage, Macc, Fracture & Neptune, Perfect Combination, 0=0, Alpha Omega, Dj Trax, Martsman, Ink, Wilsh, Egres and Tuffist. We also hosted plenty of Irish based talent from outside of Limerick itself – Zero T, Beta 2, Polska, Rohan, Naphta, Mecca, Elmo & Stacks, Genie & Ali, Source & Jet Li, Ernie, Skerry, Executive Steve, Covert, Skinny, Iree MC and many more besides.
Even before the night ended there were some other promoters starting to do host parties – Flynn was the man behind 'Fried Egg' Promotions and he brought the likes of Calibre, Marcus Intalex (RIP), Alix Perez and Ulterior Motive to town. Also the Micronite guys often booked in D&B acts for their events – Dub One, B-Key and Equinox have all played for them, as did Paradox.
Also, in the last few years a new regular D&B / Jungle night kicked off called 'Wardance'. Deepcut really pulled out all the stops on that event and brought some amazing names to Limerick including DJ Ratty, Torchman, Dextrous, Stretch, DJ Future, Djinn, Dwarde and Equinox. We've been really spoilt here over the years !!
Any upcoming gigs we should know about?
I've been keeping it quiet on the DJing front, for the moment at least. I do have a local gig here at Pharmacia in Limerick on Dec 6th, but that's about it at the moment. Been very busy with family life and also switched jobs recently, so between all that and trying to get the release schedule sorted I don't have a lot of time to be jetting off DJing as much as I used to – I'm also putting more time into producing beats and that probably suits my lifestyle a bit more these days!
Of course, if any nice offers come in, I'm always open to DJing – I still love it. I played at Chris Inperspective's Technicality night in London at the end of 2018 and that was great – always an honour to play at one of my favourite nights! I still DJ fortnightly on www.jungletrain.net on Sunday evenings if anyone is interested in listening in.
Out of all the releases that you've made, what ones stand out as being especially significant, and why?
I definitely think the first releases by Alpha Omega and Equinox/Senses set the tone for what was to come. Also having artists of that calibre associated with the label was a good way of making people sit up and take notice.
Personally, having Alpha Omega involved was amazing as I always loved his music and also Reinforced Records were a huge influence on me from the early days – the first ever Hardcore / Jungle 12" I ever bought was the Enforcers 5 picture disk – which I got on mail-order from them directly. Their label really influenced me – they always did their own thing and didn't seem to follow the whims and trends of the rest of the scene. I also loved their willingness to experiment and ability to create new forms within the music. Having Alpha Omega on the first release was a real coup for us at the time.
Similarly, having Equinox on there was great – I first came across his name on a Hardleaders compilation back when I was 14 or 15 – a collab he did with Bizzy B at that time called 'The Brain Records Crew'. Little did I know that we'd eventually meet up years later and that I'd be releasing his music! Small world. He had been missing in action for quite a few years but had some releases out on Inperspective and Bassbin around the time I was kicking off Subtle Audio and his music was exactly the kind of sound I was looking for – it paid tribute to the oldskool but still sounded new and fresh.
And, somewhat conversely, is there any track that, for whatever reason, you didn't sign and you now wish it was part of the label's history?
Gladly there haven't been too many. But one that I do remember is 'Wossat' by Macc & dgoHn. I really did want to have that on their album release, but Chris Inperspective was looking for a 3rd track to finish out their Inperspective release so I handed it over. To be fair, I was already getting 15 tracks for the album project!
Chris was always generous with his time over the years and gave me plenty of chances to play at the Technicality night and was a great source of help when I was kicking off Subtle Audio. Also, without him, the whole breakbeat movement might not even have happened, or certainly would not have come back so strong.  
Your jungletrain show has been a pretty consistent activity. Any tunes beyond the Subtle stable that you'd recommend at present?
Yeah, I play every second Sunday from 8 – 10pm GMT on Jungletrain. Plenty of good beats around for sure. Here's some favourites from the last year or so. I'll keep it to 5 or I could be here all day!!
K3Bee – 'Season' (No Sleep LP – Omni Music)
Nebula – True Wonder (Scientific Wax)
Lynch Kingsley – Astral Pulse (Foxy Jangle)
If Read & Limit – Midnight (Dissymmetrical)
… and just thought of this one, please go out and support it, Andy Skopes – Ready For The Syndicate / Foolish (Jungle Syndicate) – RIP Andy Skopes.
Looking at the Subtle Audio website, it hasn't been updated since early 2018. Are you finding that an individual website is less important to the promotion of a label nowadays?
That hasn't been intentional! Just haven't had the time with everything that's been going on. I do all the maintenance and admin on the website myself, so it actually needed a major overhaul recently which I just got around to last week. I did just add a post to give a heads up about the forthcoming releases a few days ago and I'm hoping to post a lot more content on the site in the coming months.
I'd like to widen the scope of the site and even use it as a way of communicating with different producers around the world and maybe even open up some music related projects via the website (so, maybe proposing some composition ideas for producers and setting some boundaries, or specify that certain things be used within the track they make… just an idea at the moment).
In other interviews you've mentioned that you're a parent. How do you juggle the responsibilities of work and family with your various drum 'n' bass activities?
Mostly I juggle and then the kids jump on me and that's that ! It's gotten quite difficult in recent years, I'll be honest. I know other DJs/Producers in the same situation have taken a sabbatical for a few years till their kids were a bit older, but honestly, I think it would be even more difficult for me to totally put the label, producing and DJing on the back-burner indefinitely like that. I'll persevere!
From my research, I also know that you lived in Montreal for a significant period of time. Do you still maintain links with the city?
Yes, I lived there for 4 years, I do stay in touch with some people I met there, but actually some of the people I was friendly with also moved away around the same time, so it feels like I have less ties to it now. It's a good city for sure, has a really good music and art scene.
Any other shouts you'd like to make.
Shout to all the Limerick crew ! Big shout to Marlon (Equinox) – he's actually playing in Limerick (his 2nd home) this very week! Shout to all the Subtle Audio / Bustle Beats artists, thanks so much for all the ammo being supplied for the labels – always an honour to release quality beats.
Thanks very much to all the supporters of the label and all the regular listeners to the Subtle Audio show on Jungletrain.
Subtle Audio maintains a presence on Facebook, Twitter and SoundCloud. Additionally on SoundCloud, look out for the Bustle Beats and Treaty Treats alongside Conor's accounts for Code and the jungletrain show.
And if you thought that was enough, well, there's more. Conor gave extensive answers to the questions about his favourite releases on Subtle Audio and recommendations from other labels. First up his picks from the label's past:
Sileni – 'Failspan' …such an original piece – a real honour Sileni allowed us to release it. Also 'Bouncing Octagonal Fragments' on the same release was played by Bailey on 1Xtra at the time – I remember he was asking the audience, "is this even Drum & Bass?". I love the fact that it made people ask that. Whatever it is, I love it 🙂
dgoHn 'Elle' …I think this was dgoHn's first solo vinyl release and it really marked him out as a producer to watch. No coincidence that Aphex Twin featured the track in his Coachella set in 2008.
Macc & dgoHn 'Some Shit Saaink' … getting this released licenced to Aphex Twin's Rephlex records obviously brought some extra attention to Subtle Audio. Was weird seeing Thom Yorke putting a few tracks from the album in a top ten of his!!! He followed it up by charting a track from Nic TVG's 'Then I Disappear' a few years later!
Subtle Audio Vol II – Various Artists – think this one really expanded the depth and variety of styles on the label. It was released as a 2×12" and a 3xCD (with different tracklistings on both + a mix CD of back-cat and some future releases). Took a few years to compile! There was even some ambient, techno and jazz on the CD version as well as some very experimental D&B stuff. It got D&B album of the month in Mixmag at the time.
Nebula 'Chords Of Sorrow' … huge reaction to this release. I believe it was the debut vinyl release for Nebula, and he's gone from strength to strength since, releasing a ton of music on Equinox's Sci Wax label. A real talent.
NCQL 'The Framed Dreams Of Loki' …one of the most original pieces of D&B I've heard. Reminds me of how DJ Premier might cut up a sample but this time it's layered over some slamming D&B style percussives. Also love the Opus III vocal sample and how it's used – really miss NCQL's stuff ! Please come back! Think Bailey played this one on 3 seperate shows in the space or a month or 2 on BBC 1Xtra – he very rarely repeated tracks on the show. Think that says it all. DJ Flight used to play the flip side too, so this was definitely a big release for us.
A Decade In Breakbeat – Various Artists – Significant because it marked 10 years of the labels existence (though, as usual, the release was fashionably late!) … Was really happy with the music on this one. The vinyl version saw the long awaited release of NCQL's 'Breath Of The Eve' on vinyl – maybe THE most popular tune we've released (most universal appeal) – I got so many requests in Limerick alone to get it onto vinyl after the initial digital release that I had to bow to the pressure!
It even came out tops when there was a vote for best track on Subtle Audio over on the Dogs On Acid forum a while back.
Dub One & MDR – 'The Weak Never Forgive' …have to shout this one, just cos it's EXACTLY the kind of sound I'm looking for the label. A fresh sounding break that I've never heard used before with some absolutely crazy cymbals and plenty of mad filter-ing and effects. Has quite an atmospheric Aphex-Twin style to the synths n pads too. Just love it.
Drummotive – 'Ensnared' … really love the epic feel of this one. Actually features vocals from the same singer that sang the theme tune to the original 'Twin Peaks' TV series. Drummotive has complemented the vocals perfectly here with floating pads and mystical sounds. Love how there are 3 distinct sections to the track, each drop has a different drum break, so the track is constantly evolving right till the end. Also love the break switching in the second section especially – so good!!
And the recommendations from other labels:
Infest & Mr Walker – Love Serenade (Uncertified)
SB81 – Future Point (Metalheadz)
Abstract Drumz – Cold Strings (Omni Music)
Justice – Edge of Space (MJazz)
Limit – There's No Going Back (Dissymmetrical)
Dub One – Combination Style / Da Clash (AKO)
Mecca – Evocation (Skeleton)
Metro – Blue Walk (Ortem)
Equinox – Feeling You (AKO)
Wetman – What Does Selecting Mean (Vivid)
Dub One – Cool N Deadly (Scientific Wax)
Kid Lib – Time Zones EP (Fresh 86)