Out of Fuel, or Otto Andelin and Matti Kaivanto if you prefer, have a new release forthcoming on Ronin Ordinance. Knowing the artists and the label both to be guarantors of quality, I duly contacted the Finnish duo for more information.
Could you fill us in on the details of the new release?
It's called 'Fragments Part 1' and has two tracks called 'Fragments' and 'Mirrors'. It will be released on the 2nd of August on Ronin Ordinance as limited edition vinyl and digital release.
I really like the new material, to my ear it sounds like you go to a lot of effort to cultivate a foreboding atmosphere. Am I correct in that?
You are correct. We create and collect sounds all the time and they can be from anywhere really. Field recordings, sampling or results of experimentation with synthesizers and effect pedals. There are long recordings of audio in our studio computer to be chopped and mangled further with effects. We have a couple of nice audio processing tricks and effect chains that we like to use to create the desired drone and ambient sounds.
While making these tracks did you consider Ronin Ordinance's back catalogue and in any way adapt the work to fit the label's sound?
Not really. Otto just sent a couple of tracks to the label and things just went forward from there. Both tracks on this release went through a couple of iterations before they found their forms.
The e.p. is named Fragments part 1, implying that there's more to come. What's the plan here?
Part 2 will be coming later this year on Ronin Ordinance. Originally this was supposed to be a 4 track EP but we ended up splitting it to two separate releases.
So, that's a prominent U.K. label you've recorded for. Any chance we'll see Out of Fuel in this country sometime soon?
That remains to be seen. There have been some talks, but nothing has materialized yet.
You've cited Dub as an influence upon your sound in terms of its capacity to 'create space and make sounds live and breathe'. I wonder, though, if you've considered incorporating reggae's melodic elements into your sound?
We have in a track called Wallyard Riddim. For now we feel more like making some cold and moody techno-influenced sound so we don't see ourselves visiting that sound any time soon, but never say never. Dubbing on the other hand is a common process for us when we finalize a tune. There we control specific channels, effects and parameters on certain tracks and record those movements and automations in real time. Usually we're happy after one or two takes.
As the link in the previous question shows, you two can invariably be trusted for good music recommendations. Can you give us a few tips from what you've been listening to lately?
Matti:
Djrum – Waters Rising

The whole LP is an amazing journey evoking different emotional responses. Cinematic sounds with organic instruments blended with top notch electronic production.

Silent Dust – Puppet's Dream

My favourite off the LP and I still listen to this track quite often. So good.

Pact Infernal – Path To Topeth

Really great percussion work and drones on this one. Love the arrangement and progression.
If Thousands – Our Lives Will Never Be The Same

I listen to a lot of ambient and drone music and If Thousands is one of the top bands I've recently discovered.

Ben Frost – Dark: Cycle 1

I had the pleasure to see Ben Frost play live a year ago and was really blown away by his music and performance.
Otto: I haven't been listening to many single tracks recently, it's mostly been mixes and stuff, but here are some recent favourites.
In the past you've discussed your visual influences with Drum & Bass Arena. I'm interested to know if, conversely, visual culture also inspires your musical output?
Yes. We like all art and the beauty of it, regardless of type or style. If you expose yourself to it, you become inspired, get new ideas, feelings and thoughts that you might not get otherwise. Contemporary art installations, video art, photos, paintings and dance are our favourites and we try to go see those as often as possible, as well as films, TV shows and games. Also over the course of last 12 months or so Otto started VJing and we've also done a DJ/VJ set recently where Matti played tunes and Otto messed around with videos. In the future we're hopefully able to do more of those, or possibly a live set with the live visuals being a part of it. In general we feel we also have a strong visual identity regarding artwork and such.
From an interview with Resonant Frequency I know that you share a studio with Infader and Bze. How do the two parties divide studio time, and do you ever collaborate?
We all still share the same studio space. Having a shared calendar and a group chat helps organizing things. We all have been friends for a long time, have similar tastes and have a history of collaborating. Otto & Bze had their first vinyl release in 2004 as Takomo for example. We call our space Forge Sound and we have a page on Bandcamp for stuff that doesn't fit any particular box.
In the Resonant Frequency interview you also describe a DJ gig where you blend "deeper drum 'n' bass with techno". Have you had further opportunity to develop this kind of set?
We did couple underground parties called HARMAA where those genres fused together naturally. At some point we'll do more, but now we started a mix series for HARMAA and the first episode is now online with visuals by Otto and Bze (a.k.a. Kauko Lämpö).
One of your older promotional pics depict the pair of you standing in a forest. Is the atmosphere of a Scandinavian Forest an inspiration for you?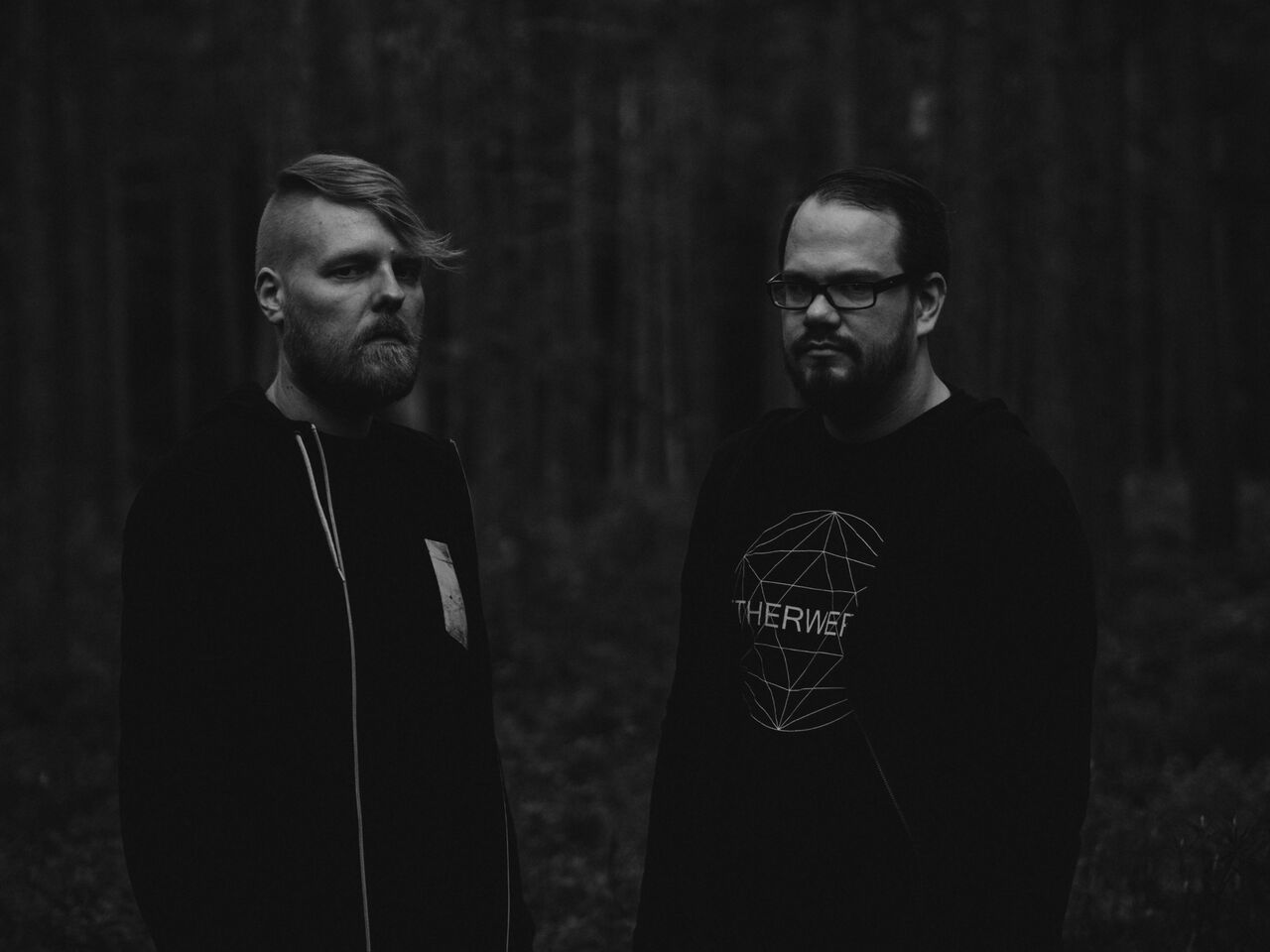 For that promo pic it was a good looking and unique background and something that gives off a certain feeling that hopefully goes hand-in-hand with our music. But in reality probably not that much.
While researching this interview, I spoke to your fellow Finn, Fanu and discovered that he has shared a flat with Otto in the past. He supplied me with a few questions:
How was it living with Fanu? How did neurofunk nerd (Otto) get along with the drumfunk nerd (Fanu)?
It was definitely fun and inspiring. Good times were had and beers and whiskey was occasionally consumed.
Why did Akai the cat get inside Fanu's MPC?
I personally didn't witness this moment, but Fanu was doing some maintenance work for his old Akai MPC60 sampler from 80's in our kitchen, but forgot to take into consideration that Akai the cat is a cat, and MPC is basically a box, and cats like to get in boxes. If I remember correctly, Akai's head got stuck between a cable and the motherboard of the sampler and that's when she realized this was not a smart thing to do. So she stood still and Fanu was able to detach her from the sampler and fortunately there was no damage to anything except Fanu's nerves!
Is it true that you (Otto) have absolutely devastated Fanu at EA NHL several times?
Our games were pretty tight first, and anything could happen, but then at some point I started to beat him with some pretty nasty numbers like 10-0 and after a couple of defeats like that he didn't want to play against me anymore.
To finish off, it's time for you to represent Finland. What artists should we be looking out for? And if I ever visit Helsinki, what are the best parties to attend?
Straight Up BreakBeat was the first Drum & Bass label in Finland and it has been revived now after almost 20 years of silence by the label boss Dizzy. The label has been making waves with sick releases. Artist wise we recommend you keep an eye out on Askel & Elere, Esc and Hmr, as well as Finnish legends such as Resound and Fanu. If you are in Helsinki and are looking for a good Drum & Bass party then ScienceHKI, Liquid Helsinki, Helsinki Jungle Mafia, Standard, Garage and Circuit are worth checking out. All domestic events get posted to this Facebook group.
You can keep up with further happenings in Out of Fuel's world via Facebook, Instagram, Spotify, SoundCloud and Mixcloud.