In a recent interview with Chimera, I was alerted to an upheaval in God's own country. A number of different organisations have now joined forces under the banner of the West Yorkshire Jungle Collective (WYJC). I made contact with key member Roj Naylor (a.k.a. DJ Parody) to find out more.
I like to cut to the chase early, you have a gig coming up, please do share the details.
We have gigs on the third Friday of every month, so our next event is Friday 19th July at The Old Red Bus Station (ORBS) on Vicar Lane in Leeds from 10pm until 4am. All our nights are 6 hours of pure jungle fire! The July event is a resident's showcase, so expect to see a lot of deep digging in the crates for a night of jungle seen through Yorkshire eyes.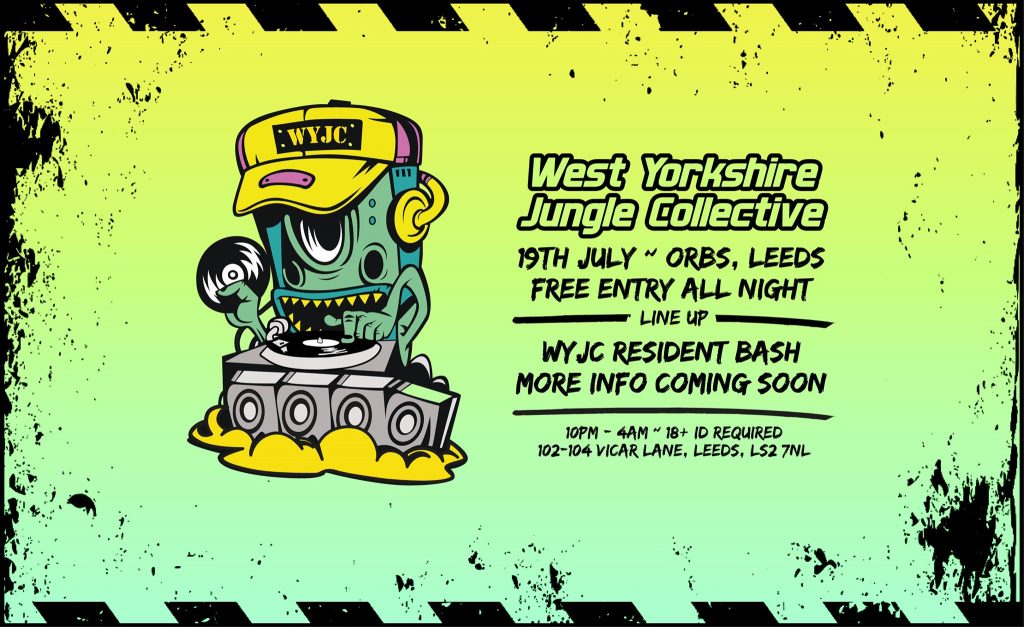 And this is part of an ongoing residency, yes?
Yes it is. We originally started out putting on a few gigs at ORBS for our friends over at License to Jungle. These were well received by the crowd and the venue alike, so when they wanted to mix up the Friday jungle / drum and bass events at the venue to try and keep things fresh, we were offered the chance to take a monthly residency – showcasing our take on the jungle scene. We jumped at the chance to have a regular event where we could come together as a group of like minded people (with the odd guest here and there) and play some records!
The upcoming show will be residents only, but you invite guests too. Who have you featured in the past? And who's in the pipeline?
So far we've had Champa B, Dwarde, Sicknote and our most recent guest Flava (Rude FM) in June. In August (16th) we're hosting a takeover from the Northern Sound Alliance (NSA) out of Middlesbrough. We're working on getting an extra special guest for September, as our residency falls in with Fresher's Week – keep an eye on our social media pages for more details as we release them!
Do you have anything else coming up?
As a matter of fact, we do. Our good friends over at Anomalies, a new night running at Café Totem in Sheffield, have recently invited us to team up for a true Yorkshire soundclash on the 2nd August. We're excited to go and showcase what we're about and link up with like minded junglists elsewhere. Details of the event can be found here.
What's the process for selecting headliners?
We want to bring the best selectors we can to Leeds and look at guests who can deliver something different to make us stand out from other events. We won't bring in people who play in or around Yorkshire on a regular basis, and won't bring someone playing an hour of mainstream tunes or anthems. As our ethos is built around primarily playing jungle on vinyl, our guests have to be able to dig deep in their collection or their own productions and bring the heat.
I've noticed a few events of interest at the Old Red Bus Station, could you give us an idea of what the venue is like?
The Old Red Bus Station is a bar, event space, art exhibition venue and nightclub as well as being home to Leeds' original all-vegan eatery, Cantina. It has previously been a bus station (as you can probably guess from the name!) and a record shop (shout out to Dave & Loren at Therapy The Hub!). Most events, including our nights, are held in the bar with a good dance floor and plenty of space for people to get their groove on.
ORBS does have two larger rooms upstairs for the bigger events, such as their third birthday party, when the collective took over room two supporting J Majik, Dom & Roland, Mantra and Double O, and the Junglism vs. Jungle Syndicate night that brought Globex Corp, Equinox, X-Nation, Sully, Kid Lib and more to Leeds.
The owners are behind the Champion Up North creative team, and run the License to Jungle nights, so are fully committed to providing a venue and space for weekly jungle and drum & bass events in Leeds.
Now turning to yourselves, can you give a brief outline of what the WYJC is?
The West Yorkshire Jungle Collective is a group of DJs from in and around West Yorkshire (with one or two trusted "outsiders!") who share a similar love and passion for the music, and for the art of DJing using two turntables and a mixer. We originally formed from a conversation at a Junglism vs. Jungle Syndicate night at ORBS in December 2017, and evolved through a number of online discussions over a drunken Christmas and New Year period, before putting on our own branded event as a "takeover" of the License to Jungle night in April of 2018.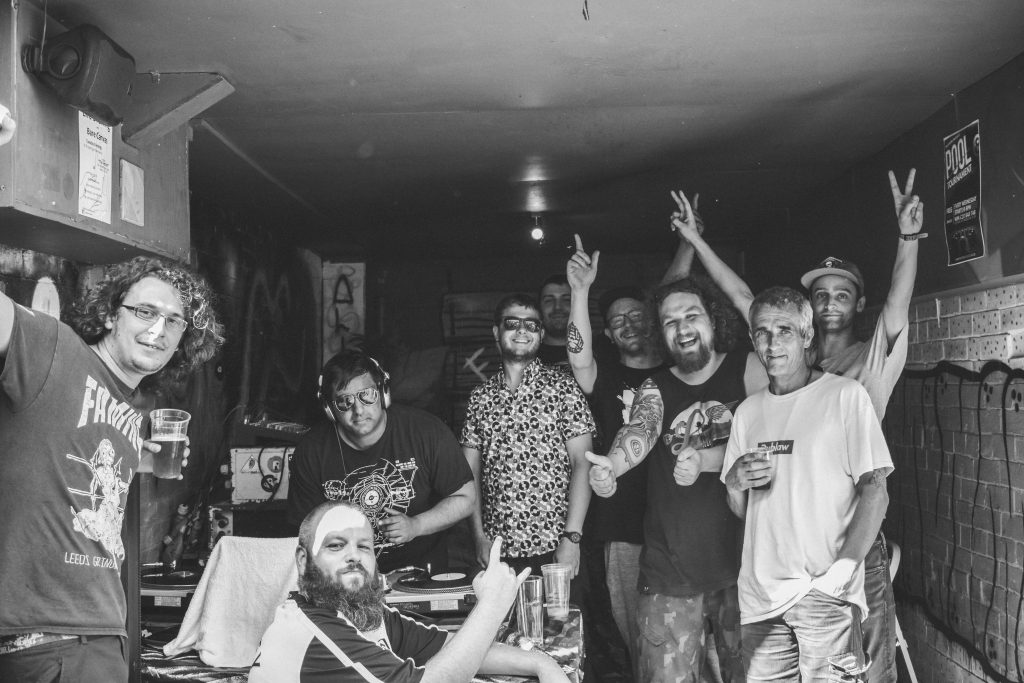 Our membership includes promoters, DJs, label owners, record shop owners and crew members from a number of outlets including:

City Beat Radio
Continuum Dubplate & Mastering
Fractal
Fright Night Radio
G.O.D. Soundsystem
Hypercharger / Supercharger
Junglism
Jungle Syndicate
PantherPrint Records
Plates Records of Nottingham
Symbiosis Soundsystem
Tinnitus

Did I just read that correctly, Tinnitus? Roj, I hope I can trust you with the readership's hearing!
You did indeed! One of the collective, Sinistatek, was the promoter of the Tinnitus nights in Sheffield a few years ago. Don't worry though, although their motto was 'my ears are bleeding' we always ensure we have the best possible sound!
Joking aside, what motivated the formation of the WYJC? Was something not being addressed by the existing groups?
The motivation? Originally, alcohol! But seriously, the meeting of Junglism and Jungle Syndicate Leeds had a number of members from both promotions playing who were local(ish) as well as DJs who were extremely talented but weren't really getting many gigs and/or the recognition they deserved (Hyson, I'm looking at you sir!) and it quickly became apparent that we all had a similar idea of what we wanted out of a music scene we've all put a lot into. We all enjoy playing on vinyl, and whilst this is possible at some of the other events, it's not the focus.
We wanted to come together to showcase who we are and what we're capable of. From the older 93 darkside jungle to the modern take with the "jungle revival", from techstep to amen and reece tearouts.
I've asked above how you go about choosing guests. More generally, how do you make decisions as a collective? In particular, how do you ensure that the needs of all participants are met?
We have a core group of four members who have the responsibility of the collective with the venue. These four are the contacts with ORBS, organise the bookings, and have "on site" responsibility at the events.
That said, the guests are not limited to these four individuals. We have a private group on Facebook that is open to discussion and conversation about everything from feedback on tunes in progress to running orders for the nights we put on. Even though there are 17 members of the collective, everyone is encouraged to make suggestions and provide their thoughts and comments to any names put forward by the rest of the group.
We have a long "hitlist" of names we'd love to book, all of which have been agreed by the collective, so we're working through them as fast as we can!
I'm guessing that there are producers in the WYJC. If so, are there any tasty releases we should be listening to?
There are a number of fantastic producers in the group, and it's difficult to pick out a few to showcase! For example, Pixl has had a release on Skeleton Recordings as well as a remix of an FBD Project tune put out on vinyl. He's recently had a track (Youth Man) put out on wax for Ruff Cutz, along with another of our collective – Ark X (Metaprogramming Pt. 2 under the Black Orchid alias).
We also have Duburban with a string of previous releases on Jurassic Records, Supercharger, In Da Jungle, Deep in the Jungle & Sub:Cult sounds. His legacy of sound will continue with forthcoming EP's on Jungle Syndicate, UKJ Records and NSA Recordings this year alone. Do not sleep on this beat master!
There are also a few labels within the collective. Supercharger and Hypercharger have already been mentioned, but the newest label being represented within the group is PantherPrint Records, run by Hyson. The first release (Rude Awakening Part 1 by Freegroove & EbanX) was released in March, and is a must for fans of breakbeat hardcore & jungle.
Looking back to the flyer, who's that fella behind the turntables?
Our mascot was designed by resident Duburban as he's a full time graphic designer during the day. We gave him an open brief. Rob has this to say: "I knew I wanted it to be playful, and reflect the fact we're all bringing our vinyl records out to play. I wanted the icon to be a silly reflection of all us residents, digging in the crates and blasting tunes out on the sound systems. Hence the speaker boxes in-front of the turntable. The final touch was the branded WYJC cap I slapped on it."
We don't yet have a name for the mascot, believe it or not! We may have to open up a naming competition. Keep your eyes on our social media (below) for more details!
I'm a relative newcomer myself, having followed Jungle/DnB closely for roughly a year and a half now. In that time, I've had the sense of a feeling of positivity about the scene and its direction at present. Am I deluded, or is that a sentiment you share?
You're not deluded at all! The jungle revival over the past few years and the "Blue Note" revival creeping in to drum and bass recently have brought a renewed focus on the scene, and is encouraging people to combine the past, present and future of the scene. Whether this is in a tune, a DJ set, or at a night, the best elements of the music are being pushed to the front.
There is still an oversaturation of certain sounds – but there is obviously a demand for them, and it makes events and collectives like us stand out more from the pack, so more power to them!
So, to close out, what are the WYJC's future plans?
Worldwide takeover events would be great! Nah, we're just gonna keep doing what we do. We play music we love to people who appreciate it. As long as there is a crowd, we'll keep going. We've been described as a "Tesco Value Rupture" in the past, so I think we have a legacy to build on, and a standard to aspire to!
We have started a mix series through our Mixcloud page (see below), with the next installment coming from Hyson very soon!
Recently, Chimera gave us a few Leeds tips, who do you think Sonic Nutrition readers should be looking out for from West Yorkshire?
First of all, a huge thank you to Chimera for the kind words! Big up yourself sir. Ronin Ordinance is a quality label, and going from strength to strength.
Apart from the members of our collective, we would highly recommend our good friends at License to Jungle and Champion Up North. Without them, we wouldn't exist. It's well worth keeping an eye on their upcoming events for monthly drum & bass nights coming up as of September. Champion Up North also work with the Vision State Collective putting on d&b nights, so they're worth looking into. We also need to give a shout out to Mood Swings, who we've recently shared an event with, Artificial Barriers – who are doing something unique with nights focused on the more experimental side of drum & bass and other genres, and YesKru who promote positivity through a range of musical genres including jungle and drum & bass. I suppose we also should shout out Junglism running in Huddersfield, and labels such as Supercharger (and their sister label Hypercharger).
Slightly further afield, there's Anomalies in Sheffield that I've mentioned above. They had Antagonist and Pod Imiya for their opening event, with longer sets allowing the DJs to take you on a musical journey.
Attentive readers will no doubt have noticed Roj's references to the WYJC's social media accounts. They are a Facebook page and group, a Mixcloud page and an Instagram page. Pop on over and let the WYJC know that Sonic Nutrition sent you.